OCCC bookstore policy misguided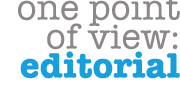 After years of forcing students to leave their belongings unattended outside of OCCC's bookstore, those on campus during the spring semester were met with a welcome surprise.
For the first time this writer can remember, the bookstore actually allowed customers to take their backpacks and other large satchels with them into the store.
A college police officer posted just inside the entry kept bookstore wares safe, and students no longer had to fret about leaving their textbooks, laptops and other expensive items out in the open. It was a win-win situation for all.
Now, the sign welcoming guests to take their bags into the store with them is long gone. For some inexplicable reason, we've now reverted back to the olden days — but with a twist.
Instead of forcing you to leave your personal belongings completely abandoned outside the bookstore, the college now makes you leave them with a student worker instead.
That's right, not a campus police officer or even a full-time bookstore employee. A student worker, just like you and me. Not only is the change ridiculous, it is downright insulting.
The college does not trust the students pumping money into their bookstore not to steal a pack of Ritz crackers, but they expect us to trust a stranger — one with no more authority than the rest of us — with our prized personal possessions.
It's like putting a rookie cook in charge of an extravagant restaurant's menu. Even if their intentions are pure, they clearly aren't cut out for the job all the same.
At its core, the check-in system really isn't a bad idea. But it is a poorly executed one.
If OCCC wants students to check their belongings in with a college employee, it should be with one of our police officers; someone who has the credentials to stand guard over personal possessions and keep them safe from theft
That way, the bookstore could be assured that its products are safe from thieving hands — and students could be assured their belongings are safe from the same.
—Whitney Knight
Online Editor
To contact Whitney Knight, email onlineeditor@occc.edu.