OCCC alumnus advocating for fellow veterans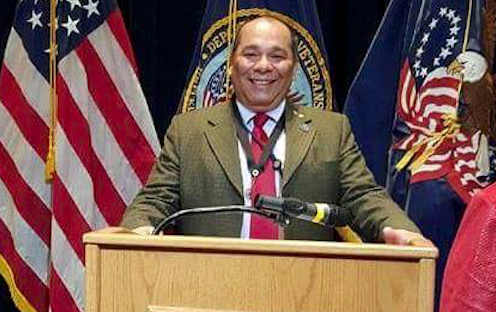 Reducing the number of veteran suicides is a goal for Gregorio Kishketon, a senior case manager of the Memorial Programs Services sector of Veterans Affairs in Washington, D.C.
Kishketon has become an advocate for addressing the problem with action and expanded services, particularly through more resources for the Veterans Suicide Hotline.
Kishketon, 50, also is advocating for more research and experimental programs for treating PTSD, post-traumatic stress disorder.
He knows what other veterans are going through because he's been there himself, reporting that his medications are down to two daily, instead of 11.
In late August of 1990, at a house on SW 86 Street in Oklahoma City, Kishketon was preparing for his first semester at OCCC.
Later, after graduating from OCCC, he transferred to the University of Oklahoma in Norman.
The Memorial Program where he works is directly responsible for all the benefits of the nation's military veterans. The program awards benefits to former service members, or their dependents,
A retired Marine infantry specialist, Kishketon said he was aided by the OCCC Veterans Affairs Program on campus in the 1990s. At the time he was also working a full-time job for the U.S. Postal Service. Although he was not a full-time student, Kishketon said, he did study one.
Despite the grueling work of the postal service, Kishketon said he completed an associate of science degree and an associate of applied sciences degree.
With two two-year degrees in hand, Kishketon made his way to the University of Oklahoma in Norman, continuing to study in the sciences.
Born in 1966, Kishketon grew up in a large family of seven sisters and four brothers. During his childhood, Kishketon said, he lived in a comfortable middle-class neighborhood, attended Southeast High School, and worked for Grider Grocery.
"It was quite different from today," Kishketon said.
After finishing his bachelor's degree at the University of Oklahoma in 1995, Kishketon later was informed of a job opening at the Veterans Affairs Medical Center in Dallas.
In 2000 he moved to Dallas for his new career, leaving the U.S. Postal Service behind.
While working in the medical facility in Dallas, Kishketon realized that helping people was his niche. Two elderly patients dying of cancer became closer to him than he ever could have imagined.
One, a woman, came to know him as Son, Kishketon said. The other, a man who was "mad at the world," was another personality that he eventually he came to care for.
Both taught him about the little moments in life and the harsh reality of death, Kishketon said.
Later, Kishketon found his way out of the VA Medical sector of Dallas in 2005 and into the private sector for about five years. Then he applied for a new job, back in the VA but this time for the Memorial Program in Washington, D.C.
From Oklahoma to Dallas, and now the nation's capital,  Kishketon said he has worked hard to keep to going up the ladder, to help even more people.
"They have a lot of people (to work with), if you think about it," Kishketon said. Also, he said, what needs the most focus is the Veterans Suicide Hotline.
"The hotline does a good job," he said. "But they are understaffed, they need more money."
Kishketon added that he used to be able to see his counselor every month, but now there is only enough funding to see the counselor every two or three months.
"Three months isn't good enough for high-risk veterans," Kishketon said.
He aspires for a director's position, the next step towards his goal of helping more people.
"The more I move up (in rank), the more people I can help," Kishketon said.
For more information about veterans services on campus, contact Janis Armstrong at vaworkstudy@occc.edu and/or 405 682-1611 ext. 7694/7695.
To reach the Memorial Programs Services sector of Veterans Affairs in Washington, D.C., call 1-202-565-4964 or email pmc@mail.va.gov.
Contact information for Kishketon is through email, at gregorio.kishketon@va.gov.