OCCC ahead of schedule on energy savings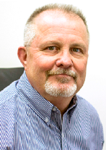 Bob Lally
OCCC is on its way to reducing its energy use by 20 percent by the year 2020 — a requirement for all state facilities under Senate Bill 1096, said Energy Manager Bob Lally.
Lally said, so far, OCCC's total savings in the current fiscal year, compared to FY 2011-'12,  is 13 percent — far above the expected 7.5 percent.
"Our November bill was the first bill that would reflect what we have done and already, we're showing considerable savings.
"Compared to last year's numbers — November and December last year to November and December this year — we have saved around $90,000," he said.
Lally said there also may be opportunities to save the college money by addressing modifications to lighting and air conditioning.
"The trend (is), every month we're saving more and more," he said.
Lally said his main focus as Energy Manager is the behavioral base energy use on campus, rather than the performance base.
In laymen's terms, that means he is looking at human consumption as opposed to how efficient items that use energy are. And, he said, he is looking at employee consumption first.
"Right now I'm focused on the Facilities Management and Information technology — the people [who] work here, not the general students."
Lally said he is using the college's Base Automation System, or BAS, to help him make cutbacks.
BAS is responsible for turning off lights in unused rooms, Lally said, a feature he said would save the college a lot of money. The system is located in Facilities Management, Lally said.
He said he has already begun optimizing the system to take over during times the campus is shut down, such as weekends and holiday breaks.
"I come here on Sundays for four hours and I walk through [the campus] and see what's on and what should be off, because I know what the schedule is," he said.
Lally said when he began his position, there were a number of things being left on which should not have been. That has been rectified, he said, and the results are already being seen.
"Current energy savings — as compared to the same periods last year — resulting from just turning stuff off when not needed, are expected be in the quarter million-dollar range for the first year," he said in an email.
Lally's job description states, "the Energy Manager works under the direction of the Vice President for Business and Finance, as assigned, to establish accountability for energy consumption at every level on campus. The Energy Manager is responsible for developing and monitoring the OCCC Energy Conservation Program as approved pursuant to OCCC Board of Regents policy governance and the OCCC President's guidelines for the purpose of reducing utility consumption."
According to an open record, Lally is being paid $60,000 a year to make sure that happens.
For more information about energy conservation, contact Lally at 405-682-1611, ext 7756, or email robert.e.lally@occc.edu.
To contact Bryce McElhaney, email editor@occc.edu