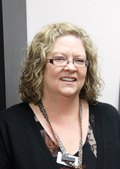 Cynthia Shaw
Nursing Professor Cynthia Shaw had to cross the Red River to find the job she wanted.
Having graduated from the El Centro campus of Dallas Community College in 1981, Shaw used her medical skills by working at Parkland Hospital in Dallas for 15 years in infectious diseases, long-term care, home care, and telemetry, the practice of monitoring patients by machine.
Shaw said she jumped at the opportunity to teach at OCCC, and joined the nursing staff in August.
She earned her bachelor's degree in nursing in 2007, her master's in nursing in 2009, and is currently working on her doctorate, all from Oklahoma City University. She lived in Oklahoma from 2000 to 2010, until moving back to Texas for a position in home-care.
Aside from nursing, Shaw has worked as a case manager coordinating services for patients, having obtained her license in 2007.
She said she chose the medical field because she knew she enjoyed caring for people, and considers herself a "people person."
An added bonus was being able to wear scrubs, the comfortable medical uniform, to work.
Shaw said she is new to the teaching field, but her on-the-job experience is sure to lend itself well in the transition to professor.
When Shaw decided to leave nursing and enter the teaching profession, she said she could not find the job she wanted in Texas, so she broadened her search to Oklahoma City, where she had lived briefly as a child and for 10 years as an adult. It was then she found OCCC.
"I love the dedication Oklahoma City has to its residents," Shaw said. "Oklahoma City feels like home now."
She said she was impressed with the city's MAPS program, as well as the OCCC campus, faculty, and nursing program. The most impressive aspect for her, however, is the students, she said. She loves it that any Oklahoma resident can come to OCCC because it gives opportunities to many students.
"OCCC has a good system," Shaw noted.
Shaw has already begun "team-teaching," where she partners with Professor Heather Worden, her mentor, to teach classes. Shaw said this method will allow her to ease in to the "OCCC rhythm" until late October, when she will begin teaching her first class on her own with a lecture covering HIV.
Worden said the mentoring process for first-time faculty is important for new professors.
"As a mentor and team member of Cynthia's, I meet with her several times a week to see how everything is going with her assignments, clinical group and to discuss any questions," Worden said.
"It also allows experienced faculty members to share observations, experiences and constructive criticism with the new faculty member."
To contact Erin Brinkworth,
email onlineeditor@occc.edu