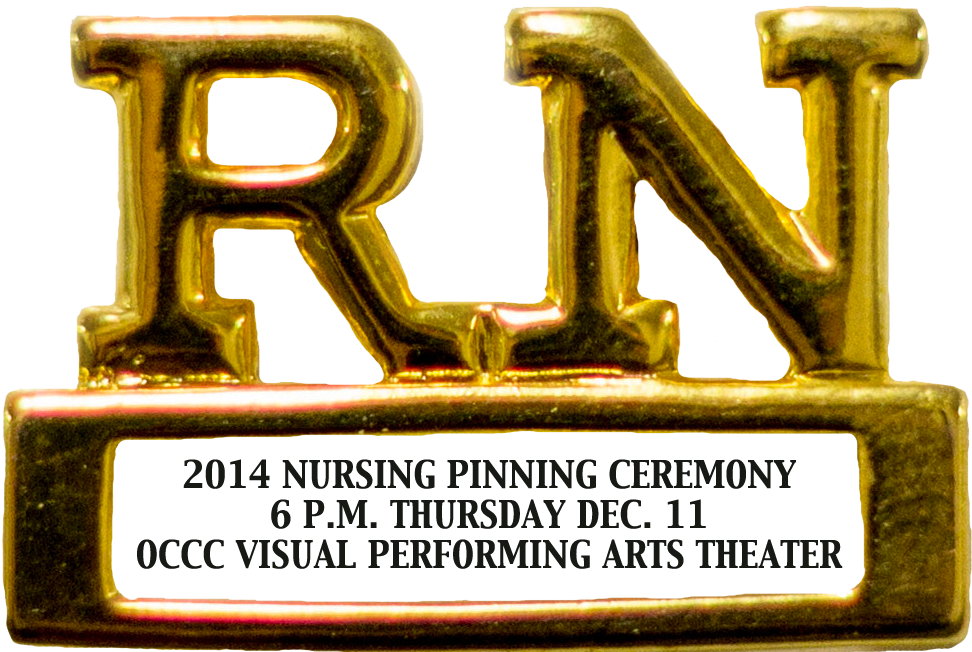 In the 1800s, Florence Nightingale started a time-honored tradition in the nursing field — the pinning ceremony — where nurses are given a pin upon completion of nursing school, and honored in front of their peers, friends, and family.
OCCC's nursing class of fall 2014 will hold their pinning ceremony at 6 p.m. Thursday, Dec. 11, in the Visual and Performing Arts Theater on campus, said Deborah Myers, nursing program director.
Myers said OCCC is one of the few colleges that still chooses to recognize their nurses in this way.
"A lot of the universities have gotten away from pinning ceremonies, simply because they want the recognition to be more of an academic recognition," she said.
"Here, the students are very traditional in the sense that they still want the pinning ceremony, and I think a lot of the families do too.
It makes it a little more personal for their degree and for their family members.
"I think it allows them time to really recognize them for the degree that they had instead of just being in mass with many, many others just getting a diploma.
"I think it's important."
The nursing students at the college appreciate the tradition and the personalization of the ceremony, Myers said.
She said about 60 nurses will be honored at the pinning. All are encouraged to bring their friends and family to the event.
Because the number of people attending has ranged from 600 to 1,000, Myers said, the program has typically been held off campus in the past.
She said it will be held on campus this year.
Myers said the ceremony will be a fairly quick event, lasting about an hour.
President Paul Sechrist, Vice President for Academic Affairs Felix Aquino and a Nursing Process 2 professor will speak at the ceremony.
The class also will present a video they made before academic awards and clinical excellence awards are given out.
Pins will be given out by Myers and Karla Schenk.
Myers said the process has been modified over the years to make it as efficient as possible.
"They just file up to the stage one at a time," she said.
"There's usually two of us that are pinning so that we can make it go faster."
The event is open to the public, Myers said, and everyone is welcome.
She said those attending don't need an invitation.
"I know with some schools and colleges, space is a real issue and if you don't have an invitation, you aren't going to get in," she said.
For more information, contact Health Professions at 405-682-7507 or visit www.occc.edu/academics/programs/nursing.