No More Knots unties all stress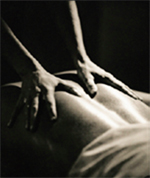 With finals fast approaching, many students are desperate for a little stress relief. And what better way to relax than with a full-body massage?
No More Knots/Burton Chiropractic located at 3820 N. Rockwell in Bethany, has been in business for about 20 years. But don't be fooled by the numbers — they just translate into experience for Dr. Barry Burton, who has dedicated his career to providing relaxation and pain relief techniques for his customers.
After all, there's got to be a reason why Burton's patients range from college students to a Beverly Hills interior designer.
Upon walking into No More Knots, customers are greeted not by a team of amateurs fresh out of cosmetology school, but instead by a cozy, homelike reception area and calming water fountain.
When it's time for your appointment, you are escorted to your own private massage room, where you choose from a large selection of soothing tunes to relax to. Then, the magic begins.
Marti, a registered nurse with about 10 years of experience as a masseuse, has a smile that is seconded only by her magical hands.
For $35, she will treat your body to a 30-minute massage that rejuvenates, revitalizes, and downright feels amazing.
The time may seem short, but keep in mind that Marti can accomplish in a half hour what those beauty school novices couldn't pull off in two.
By the time she is done, you probably won't remember the meaning of mathematics — or that you have a huge chemistry final next Monday.
In addition to the wonderful massages, No More Knots also offers a revolutionary technique perfected by Dr. Burton himself.
Dr. Burton also offers cutting-edge muscular skeletal pain relief, a painless procedure that provides fast, all-natural relief for all types of muscular aches and pains.
Depending on the intensity of your injury or problem, each session can cost between $40 and $80.
Although No More Knots is appointment-only, it's easy to schedule a session with hours available Monday through Saturday.
To schedule an appointment, call 405-787-6363. Whether you stop in for some one-time stress relief or you become a regular customer, you don't know relief until you have No More Knots.
Rating: A+