Nigerian student lives for helping others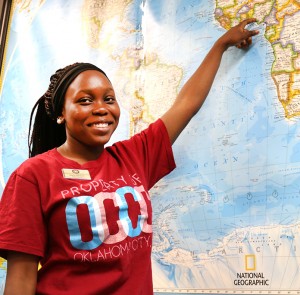 Learning to live alone and getting used to Oklahoma culture are top priorities for 17-year-old Aishat Olaniyan, an international student from Nigeria.
Olaniyan said, so far, she has been up to trying most things but said she draws the line at eating lasagna.
"I'm trying to try as many things as I can just to get used to the culture," she said.
Although she enjoys being in the U.S., Olaniyan said the initial move was difficult.
"I was 16 when I left, and I left my friends … ," she said.
"Most of the times I would leave home I would always go with my little sister but this time it was just me so it was very difficult."
Olaniyan's sister lives in Texas.
Olaniyan said adjusting to American culture hasn't been too difficult, but she said she isn't used to seeing so many cars and buses.
She also hasn't encountered any language barriers as she's spoken English all her life. Olaniyan said English is Nigeria's official language.
"We spoke English at home, at school," she said. "Most parents speak the native language of Yoruba but my parents didn't do that."
Olaniyan is majoring in pre-medicine and is hoping to travel the world, helping people, she said.
Caring for others is something Olaniyan has done since she was young.
She said she recalls how she gave away some of her own possessions in Nigeria to help those in need.
"Just seeing people my age having to live on the street, having no house, no food, that just made me sad," she said.
"I remember then going to my room to get all my clothes I didn't use any more. My mom doesn't even know about this 'til now. I gave them my clothes, gave them my food. I felt happy just doing things like that."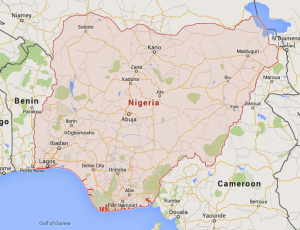 Olaniyan plans to take the human anatomy cadaver class and is excited about it.
"I think it's going to be pretty fun because things like that interest me a lot for some weird reason," she said.
Olaniyan plans to transfer to the University of Central Oklahoma in the spring.
She said that while Nigeria's education system is virtually the same as America's system, school in Nigeria is more challenging.
"It's hard," she said. "They keep pushing and pushing. Like, here, you can decide to take a semester off and come back but if you do that back home you have to start all over again."
Where does Aishat Olaniyan see herself in 10 years?
"In a hospital, saving kids' lives, helping people, going around the world," she said.
"I've always had this dream of having enough money to visit every continent — I know it's crazy."