New John Massey Center open for business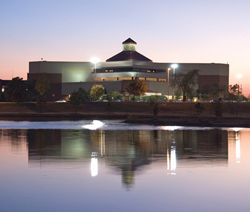 The John Massey Center, home of OCCC's administrative services such as finance, payroll, purchasing, human resources and planning research, has officially relocated to the southeast corner of the OCCC campus from its previous location near Interstate-44 and SW 119th.
The move-in began March 26, after the Board of Regents voted to accept the new building, said Facilities Management Director J.B. Messer.
As soon as the employees were in the building, it was officially up and running, he said.
Construction of the new location began more than a year and a half ago, Messer said.
Chris Snow, Facilities Management assistant director, said the construction was completed within the approved budget of $2,301,950.
The move was completed in about a week, he said.
In its former location, the John Massey Center housed administrative offices as well as professional development classes for businesses in the Oklahoma City metro area. The center also was home to aviation classes for OCCC's partner school, Southeastern Oklahoma State University in Durant.
Those classes have been relocated to other rooms on the main campus, Messer said.
In its new campus location, the Massey Center contains offices plus two classrooms for staff development, Messer said.
Once employees enter the doors of the newly completed center, they will see a contemporary reception area with modest seating.
A monitor on the wall, similar to those located around campus, airs campus, local and breaking news.
A few electricians could be seen securing the final pieces of wiring in the rooms, but the majority of the building is finished.
Every room has a video monitor (which varies in size) and wireless capability, which may be utilized for presentations, Messer said.
However, as Larry Robertson, Compensation and Human Resources director, said it could be up to three weeks before all the employees are settled in.
The southwest corridor has an application station awaiting job seekers.
Prospective employees can use one of the computers, located along the wall, to submit their resume.
Three meeting rooms with a 12-person capacity will be used for professional development or new employee interviewing, Robertson said.
The center also has an open-bid room, for outside vendors to place bids on projects, set up for the purchasing department, he said.
Robertson said there's a technical training room currently providing 16 training stations with the intention of expanding to 24 as well as additional cubicles that will house payroll, finance and accounts payable. Everyone under one roof — that was the goal, he said.
There are several empty cubicles allowing for growth. These spaces may be where auditors may perform their work, Robertson said.
"We have an internal and external auditor. We're always trying to find a place for them, and now we have it."
The new center also provides plenty of space for numerous filing cabinets used to keep sensitive documents and employee records secured, Robertson said. He said the center also is complete with motion-sensor lights in all of the rooms that illuminate as people walk in and dim after they're gone.
"Not only is that a cost-saving measure, it's a safety feature."
Robertson said there haven't been any major delays with the transition from their former location.
He said several discussions took place with the architects to make sure they would be able to achieve President Paul Sechrist's interest of having an open feeling with the offices.
"Everyone in the cubicles were involved in the collaborative process," Robertson said.
Jo Burris, Human Resources assistant, and Alicia Silva, Human Resources representative, say they are happy with the new facility.
Gary Lombard, Human Resources vice president, said everyone is welcome to take a tour of the new location.
"We encourage everyone, students and employees to come and see our new facility," he said.
Robertson said the original John Massey Center is under new ownership. "Because Chesapeake purchased the old facility, which was given to the college by John Massey, there was very little money taken out of contingency funds to build this site.
"We are happy to have the new facility."
To contact Jon Hoover, email onlineeditor@occc.edu.
To contact Yvonne Alex, email staffwriter3@occc.edu.