New Food Pantry Offers Help For Hungry Students
Hungry student at Oklahoma City Community College now have a new resource.
The OCCC Food Pantry opened on September 18. The food pantry offers free weekly groceries to anyone with a student ID. Students can take groceries not only for their personal needs, but for the needs of their immediate families as well.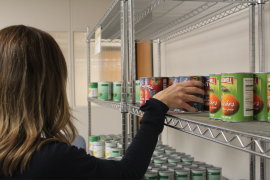 The Pantry is in the Science, Engineering, and Math wing, in room 1N1. It is open Tuesdays from 10 a.m. to 2 p.m. and 5 to 7p.m., and from 10 a.m. to 2 p.m. on Wednesdays. The initial limited hours are intended to give program organizers a chance to "work out the bugs as we expand to meet student demand," said Dr. Jeremy Thomas, Vice President for Enrollment and Student Services.
The still-young program is currently reliant on charity for both its staffing and its supply of goods.
"Currently, we do not have dedicated OCCC Pantry staff," Thomas said. "We're predominantly using volunteers to work the pantry."
The program was envisioned in 2017 after selected faculty told college President Jerry Steward that hunger was having a big effect on student success.
Markus Smith, Professor of Political Science at OCCC, said he sees the problem firsthand.
"I personally have had to buy students food," Smith said. "[I'll ask] 'What's wrong? What's going on?', and then it comes out, 'I haven't had enough to eat, Dr. Smith.'
Smith said his wife teaches at U.S. Grant High School and she sees the issue of hunger firsthand.
Research on the subject bears that out — the OCCC Food Pantry webpage cites statistics from "Hunger on Campus", a collaborative study on food insecurity among college students.
Of nearly 3800 students across twelve states, 22 percent were found to be food insecure. Among strictly community college students, that number rises to 25 percent.
"One out of four, to me that's an epidemic," Smith said. "I don't feel like there should be any—not just one out of four college students—but just people, children…so to me, it's an epidemic. I feel like we need to do more."
For him, this problem is personal. In an effort to lead by example, Smith has contributed 16,000 meals to the OCCC Food Pantry through his real-estate company, the Markus Smith Real Estate Team at Keller Williams Elite. His inspiration in donating traces back to his childhood.
"I grew up, very humble beginnings. Grew up in poverty, and so I know. I know what it means, what it feels like to go to school hungry," he said.
Smith pointed to aid and welfare programs as a significant factor in the success he's seeing now.
"My family received a lot of assistance and help from programs like the food pantry," he said.
According to the study, 57 percent of Black students reported food insecurity, compared to 40 percent of non-Hispanic white students.
The report also touches on the educational impacts of hunger. Of food-insecure students, 25 percent reported that these problems caused them to drop a class. 55 percent had to choose between food and textbooks, and 53 percent reported missing a class due to hunger.
Smith believes the solution to this problem lies in a concerted effort between the state and the private sector, and said both should be doing more.
"I challenge all businesses here in Oklahoma City to donate to this great cause," he said. Donations can be made through the college's website, at occc.edu/hunger. Those willing to donate their time may contact Brooke Dresel in Recreation and Fitness, at brooke.dresel@occc.edu or by calling (405) 682-7680.
"It's one less thing for students to have to worry about," Smith said. "No student should have to come to class in hunger."