New eatery serves up 'authentic' Chinese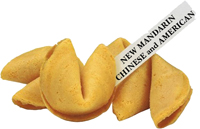 Whether it's watery egg drop soup, sweet and sour chicken served with a side of ketchup, or fried rice so dry you could crack a tooth on it, it's pretty darn hard to find good, authentic Chinese food this side of the hemisphere.
Or at least, it was — until New Mandarin Chinese and American opened just down the street on 6909 S May Avenue.
On the outside, New Mandarin is pretty nondescript: a small building marked by a bright yellow sign.
Even the inside is decorated conservatively, with the few odd pictures here and there, and subdued lighting hanging over the tables. It's pleasingly simple, and refreshingly ordinary.
The food, however, is anything but.
For starters, you are given a lengthy menu that offers everything from the familiar, such as sweet-and-sour chicken and broccoli beef, to the foreign, like Buddha's Delight — a vegetarian dish with mushrooms and bean curds.
If you are dining with more than just yourself, I strongly recommend taking advantage of New Mandarin's family meal offer. For however many people are in your party, you select that many entrees from the hefty menu for a mini-buffet.
Not only do you receive more than generous portions of the selected items, you also get a large bowl of fried rice, drinks, and bowls of egg drop soup and egg rolls for everyone.
My family of three tried this offer per the friendly waiter's suggestion, and could not have been more pleased. We ordered sweet and sour chicken, chicken lo mein, and chicken chow mein.
Right after we placed our order, we were brought steaming bowls of egg drop soup with crispy wanton chips. The soup was thick and yellow with egg, unlike the watery, clear soup that I've become accustomed to eating over the years.
Before we could even finish our soup, the main course was brought out to us on heaping plates that barely fit on our table. I scooped a little of everything onto my plate, and when my first forkful of lo-mein hit my mouth, I was instantly in love.
The chicken was cooked with a hint of teriyaki flavor, mixed with tender noodles, mushrooms, and crisp green beans. The sweet and sour chicken was freshly breaded with a thin, crispy batter, and drizzled in the most delicious orange sauce I've come across.
Even the chow mein, not usually a favorite of mine, was undeniably delicious, cooked so fresh that the noodles practically melted in your mouth. Unlike some variations that skimp on the veggies, this chow mein was full of celery, cabbage, and bean sprouts.
As if the food wasn't great enough, it was also shockingly inexpensive. The meal for three cost a paltry $25, and each of us had enough left over the next day for lunch.
Nowhere in OKC have I ever found Chinese cuisine of such an authentic, delicious caliber as that served at New Mandarin.
The only downside? You'll be so full on delicious food, you won't be able to walk right back in and order more.
Rating: A+
—Whitney Knight
Online Editor
To contact Whitney Knight, email onlineeditor@occc.edu.