New coffee and tea bar features 'quality' drinks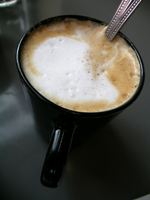 A new coffee and tea bar in the College Union dining area is the result of hard work throughout spring break, said General Manager Corrine Aguilar.
Beginning Monday, March 26, Carson's Catering made the switch from Neighbors Coffee to Henderson Coffee, an Oklahoma-based company located in Muskogee.
Overall, Aguilar said, the change took place to provide customers with new and better quality beverages.
"We did a tasting a while back and really loved their drinks," she said. "They were a lot better than the ones we had before."
Some of the latest items include various coffee flavors like mocha, French vanilla, and caramel, and special drinks like cappuccino, java chillers, and lattes. Roy's Fresh Lemonade, traditional hot chocolate and flavored teas also are offered.
"It's gaining a bit of attention," Aguilar said. "The spring semester is getting warmer, so people aren't drinking the hot drinks as they do during the cooler fall semester. But, those who have said they really like it."
The switch also included getting rid of packaged coffee and introducing whole beans, as well as exchanging the Coca-Cola Fountain Tea with True Leaves Tea. Besides the usual peach, and sweetened and unsweetened tea, there are presently also original flavors such as Organic Mint, Berry Black, Chamomile Citrus, and Earl Grey.
"They're all fabulous. Everyone should try them," Aguilar said.
An extra machine allows for people to create their own beverages with unique recipes, such as Mud Slide and White Moose, along with supplementary ingredients, like steamed milk.
Besides satisfying taste buds, the fresh display is also easy on the eyes.
"Our station used to be sort of small and scattered. Now, it's its own kiosk with matching graphics and cabinets," Aguilar said. "It looks a lot more modern."
"We enhanced the cafeteria to offer more, and we're really excited. It looks nicer and adds variety," she concluded.
Carson's innovation has branched out to all its units on campuses across the state, she said.
To contact Nadia Enchassi, email onlinewriter@occc.edu.