New Avril album lulls listeners to sleep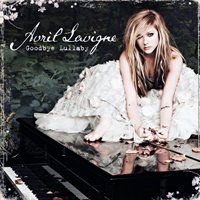 With the release of her fourth album "Goodbye Lullaby," Avril Lavigne seems to be taking a step backward from her younger days.
Produced by Max Martin, the album feature 14 tracks written by Lavigne along with co-writers Evan Taubenfeld, Butch Walker and ex-husband Deryck Whibley.
Lavigne starts out the album with the upbeat track and lead single, "What the Hell" which is nothing but immature lyrics masked by a catchy tune.
Other tracks such as "Smile," added almost midway into the set list, provide enough foul language to suffice for the whole album.
The album follows with mostly ballads describing love, relationships and breakups.
While most of the lyrics are an attempt to be heartfelt and romantic, most seem to be reflectant upon Lavigne's divorce from Sum 41 member Deryck Whibley.
Songs such as "Alice," written for the fantasy adventure film "Alice in Wonderland," and "Push" do nothing more than project a screechy voice which results in awkward decibels that make the album's 52 minutes hard to sit through.
Tracks such as "Darlin" and "Everybody Hurts" provide a moment of relief by featuring likable acoustic guitar chords rather than the usual pop fluff.
Despite the album's sound-alike tunes and cheesy lyrics, songs such as "Stop Standing There" and "I Love You" are standout tracks that offer a bit of variety from the album's other melodies.
Overall, the album is a letdown and will have many Avril fans wishing she would go back to her angsty, moody and "Complicated" teenage years. If this is Lavigne's attempt to regain the emotional affect and success of previous albums, it fails significantly.
Rating: C-