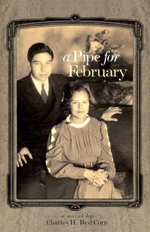 Two Native American writers will speak at 6 p.m. Thursday, Oct. 13, in the Bruce Owen Theater as part of Humanities Week. The event is free and open to the public.
Osage author Charles H. Red Corn wrote the novel "A Pipe for February," which is being taught this semester in English Professor Michael Snyder's Native American Literature class.
Phillip Carroll Morgan, of Choctaw-Chickasaw descent, wrote a collection of poems called "The Fork-in-the-Road Indian Poetry Store," which won the Native Writers Circle of the Americas First Book Award for Poetry in 2002.
Both authors were invited to speak by Snyder, who said he first met Red Corn at the "I lo'n shka" dances that take place in June in Gray Horse in Osage County.
Red Corn will be visiting Snyder's class on Wednesday morning, Oct. 12, to talk about his novel .
Red Corn graduated from Oklahoma College of Liberal Arts with a bachelor's degree in psychology and earned a master's degree in education from Penn State.
"A Pipe for February" was published by the University of Oklahoma Press in 2002. It covers a time in the 1920s when the Osage of Oklahoma became the wealthiest of the Native American tribes in the U. S. because of commercial oil and mineral leases to their land.
"It tells the story of the two sides of having oil wealth," Red Corn said.
"One side was very good and allowed the Osage to have access to a life they didn't before, but also there was a danger when criminal elements got involved."
Snyder called this a story of transition.
"They were moving from a tribal, traditional life to a Western, Christianized lifestyle," Snyder said. "It was sort of an end of an era for the Osage."
The book is fiction and there has also been talk of a movie based on the book, but the story is based on fact, Red Corn said.
"I've written a screenplay," Red Corn said.
"It's exciting. I've never done it before and it's a very interesting process."
Red Corn currently lives in Norman with his wife and is a contributor to the Osage News.
Morgan writes for the Chickasaw Press, as part of the Chickasaw Nation Division of History and Culture, and is a guitarist and song writer. He earned a doctorate in Native American literature from the University of Oklahoma.
His work "Chickasaw Renaissance" details with the experiences of the Chickasaw Nation after Oklahoma achieved statehood and the tribe subsequently lost the rights to tribal lands, through the following decades of rebuilding their government and nation.
Morgan co-authored "Dynamic Chickasaw Women," a biographical account of women in Chickasaw history, and has contributed to "Reasoning Together: The Native Critics Collective."
Morgan lives on his family's farm in the Chickasaw Nation.
Faculty members will read work at the beginning of the night to prepare the stage for Morgan and Red Corn.
The event, which has the theme " Seeing with the Heart's eye," is expected to last until 8 p.m.
To contact Michelle Borror, email onlineeditor@occc.edu.