Nail polish lives up to expectations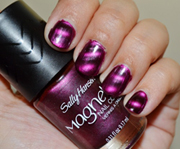 When somebody describes you as magnetic, they're usually talking about your striking personality.
Now, thanks to the latest in Sally Hansen's ever-expanding line of revolutionary nail polishes, they might be talking about your fingertips instead.
The appropriately-named Magnetic nail polish is the successor of the brand's Crackle Overcoat, a product that, sadly, did not live up to expectations.
But fret not, fellow nail polish connoisseurs — Magnetic is everything it promises and more.
According to the shiny little label that wraps around the bottle, Magnetic's formula is infused with tiny metal particles that move when exposed to a specially designed magnet — included in the bottle's cap — to create a three-dimensional effect the company calls "extraordinary."
I picked up a bottle of "graphite gravity," a deep silver shade reminiscent of gunmetal, on a recent Target trip.
Per the nail polish's directions, I first applied a layer of the polish to each nail. Even without the magnetic effects, the shade itself was bold and beautiful — but we didn't pay $8.99 for just a pretty color, now did we?
I then applied a second layer of color to my left thumb nail and held the magnet over it for the 10 seconds the bottle requested. After waiting that time period, I eagerly pulled the magnet away from my nail, only to see no real difference.
Frustrated, I globbed on a bit more polish and tried the magnet again, this time holding it over the nail for closer to 20 seconds before I pulled it away.
Recalling my prior failures with Sally's Crackle Overcoat line, I didn't hold my breath — which is why I was pleasantly surprised when the nail I saw looked like something out of one of James Cameron's 3D flicks.
The magnet had indeed created a series of waves in the wet polish, creating an incredible effect. For once, my nail looked exactly like the in-store display did.
After some tests and trials, I determined the instructions included with the product are definitely a bit off.
For optimal results, it's best to hold the magnet over the nail between 20 to 30 seconds — not the recommended 10 — to really get the wave effect rocking.
In addition, you need to make sure that after the initial polish application to each nail, you go one nail at a time to keep the second layer of polish from drying before you can create the magnetic waves.
If you follow these rules, the end result is eye-popping. In addition to the deep silver I sampled, Magnetic is also available in gold, copper, purple, fuchsia, blue and green.
At $8.99, the price is a bit steep for nail polish, but if you want to have some fun with your nails, it's definitely worth the splurge.
Rating: A-
—Whitney Knight
Online Editor
To contact Whitney Knight, email onlineeditor@occc.edu.