Myanmar Struggles With Violence, Genocide
Babies are being killed and their mothers are being raped in Myanmar.
Ahmed Jasim Rashid is an Oklahoma City Community College international student from Qatar, said children have been the victims of genocide for more than two years. Rashid, who came to Oklahoma in 2015, said the killings have been going on for years.
"Babies are being killed as their mothers are raped, and set on fire," he said.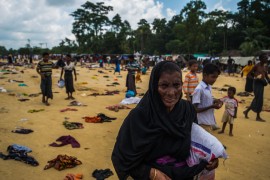 The same year the government in Myanmar unraveled, national media focused on the terrorist attacks occurred in Paris. Rashid said the killings in Myanmar went unnoticed.
"This has been happening more than a month that's for sure, and the sad part is that only after two years people now say 400,000 people came from Myanmar, many more came, but it was because it was not a westernized country so people don't care," he said.
A two-year-old independent investigation showed the minority tribe was heading toward genocide. The International State Crime Initiative is a community of scholars working to understand state crime. In 2015 the group reported on the genocide in Myanmar.
"For decades, the Rohingya people in Myanmar have been victims of widespread governmental violations that, when considered holistically, and analysed systematically, reveal a bleak conclusion: the Rohingya people are being decimated," the ISCI said.
Rashid said the culture of the area contributes to the unrest. "Rohingya has a weird history," he said. "They are being run out of Myanmar because they are minorities, one of the smallest minorities in the world."
Even as early as 1978, investigations reported the Rohingya have had to flee from Myanmar to Bangladesh because they were illegal immigrants.
Al Jazeera, a news outlet based in Qatar, said the Rohingya received foreign identity cards, which limited the jobs, and educational opportunities they could pursue and get. In the 1980s a new law stripped the Rohingya from being recognized as one of 135 ethnic groups in Myanmar.
The Rohingya have no access to health care, education, study, work, travel or the ability to practice their religion. Rohingyas can't vote in elections, even after becoming naturalized citizens, the report said.
In February 2015 the minority group became illegal the same month they were naturalized, the investigation showed.
Prime Minister Suu Kyi gave the Former United Nations Ambassador Kofi Anan the responsibility of investigating the conditions within the Rakhine State.
The UN's interim, issued in March of 2017, provided several recommendations such as allowing humanitarian actors, media access, holding human rights violators responsible and allowing citizens to have rights.
That same year, in June, the United Nations Refugee Agency estimated that more than 150,000 people had fled from the Myanmar/Bangladesh border of Bangladesh.
Rashid said, "It's surprising the Prime Minister, Suu Kyi, is so quiet because she won a Nobel Peace Prize. She's pretending she doesn't know what's happening, and she's relying on her officiants."
Vice President Mike Pence said reaction to the recent militant attacks in Myanmar was 'savagery.'
"Yesterday, Secretary of State Tillerson discussed Rohingya refugees with Aung San Suu Kyi and urged the Burmese government and military to facilitate humanitarian aid and confront the allegations of human rights abuses," Pence said.
Though the Prime Minister ensured refugees they could return, Pence said the United States was renewing its call on Burma's security forces to end their violence immediately and support diplomatic efforts for a long-term solution.
United Nations Secretary-General António Guterres told the Association Of Southeast Asian Nations that the violence should stop.
"I also continue to call for three immediate actions, namely: the suspension of military and security operations; unfettered access for humanitarian agencies to affected communities; and that those who fled should be able to exercise their right of safe return," he said.
Guterres said the UN is ready to work with the Association of SouthEast Asian Nations to help the Myanmar government investigate its ethnic cleansing crisis by the implementation of the final report of the Advisory Commission on Rakhine State led by Kofi Annan.
Earlier this year, Myanmar Prime Minister Aung San Suu Kyi thanked Kofi Annan and members of the commission for their 'visionary and constructive approach' to the need for stability, peace and prosperity in Rakhine.
Although Suu Kyi has not said anything about the Rohyngas who have fled from the state, she has spoke about the terrorist group ARSA, the Arakan Rohingya Salvation Army, which has been present since the Rohingya were no longer considered citizens.
"Necessary measures are being put in place by security forces to safeguard against possible terrorist attacks," she said. "At the same time, taking into account that people with extreme ideology can use the climate of fear to incite unrest, instructions were issued to the security forces to deter such attempts and to take legal action against perpetrators."
The issues in Myanmar are continually escalating as thousands flee to escape systematic ethnic cleansing, rape.
The Myanmar government insists there is no refugee problem, the Associated Press reported. "Myanmar's U.N. ambassador insisted Monday that there is no "ethnic cleansing" or genocide taking place against Muslims and objected "in the strongest terms" to countries that used those words to describe the situation in Rakhine State," the AP said.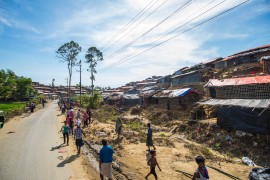 Asif Mahmood Abbas, a local volunteer, said the killings was so large they drew attention of the rest of the world.
"It was visible for the first time," he said.
Abbas said the influx, which has been increasing even before August, went from 20,000 to more than 500,000 refugees. "Last week people are walking or they're coming in lines, this week the people are literally running because it's completely chaos over there," he said.
Abbas said at the beginning of August he built over 1,500 homes for refugees with plenty of space for each family, later in September there was no walking space.
"We can see the live fires over the hill," he said. "What we do see is many national videos showing something like that."
Abbas said the Rohingyas were polite when he spoke with them. He said it was almost like they were used to death.
He said the refugees in Bangladesh need medical supplies.
"I would say what they need right now is medical support we could find 15 to 20 teams of doctors for aid but most of them would have to be flown from Qatar so it's too expensive it's a very long journey so we do need a lot of female female doctors because there are a lot of pregnant women over here," he said.
Abbas said many of the women stayed pregnant, so they could avoid being raped.
"Every family had five to six children with them and this is because usually when they are pregnant they don't rape them, and that's another reason why they take so many children," he said, "I've personally seen a lot of children for like two or three months old even a month old I just keeping them in their hand under the sun;it's going to be a big problem."
Doctors are too expensive to fly from Qatar to help those who need medical attention, so Abbas and his grassroots organization have been asking more medical practitioners to volunteer at the border of Bangladesh.
"Myanmar officials officials are so bad that ships from Malaysia had come to the Burmese coast for the refugees. They brought food clothes and stuff, ships from Malaysia," he said "The Myanmar, including police, including protesters, they all went to the coast and told the ships go away and go back."
Rashid said he hopes Bangladesh will continue to host refugees. "Bangladesh should still be taking refugees because they are still people," he said.