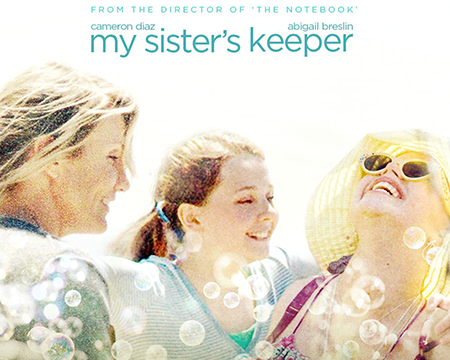 While in high school a few friends and I would read Jodi Picoult's books because we loved how she wrote and the way she unfolded every story. However, there was one book I never quite got the chance to read: "My Sister's Keeper."
I would always tell myself I would read it but never quite got the chance to get very far into the book.
What I did instead was watch the movie a few weeks ago and come to find out, the movie, based on the book I longed to read, brought tears to my face instantly.
This movie is about a teen girl, Kate Fitzgerald, who has had leukemia since a very young age. Her younger sister Anna Fitzgerald is procreated with the purpose of saving her sister Kate's life.
Kate is not able to heal completely but still lives for a longer period of time than what her doctor had initially said she would.
The movie follows the Fitzgerald family through every hard moment they go through with Kate's illness.
If you have ever lived something like this in person, you can tell the script was perfectly written with every little detail cancer patients and families go through.
The movie is a bit difficult to understand at first because it builds slowly; one must keep watching to understand the process through which Anna Fitzgerald is put. However, as the movie progresses, a lot of details start to become clear and the audience is entangled in a story they will shed many tears over.
Mainly, because the acting from each of the actors is very fresh and vivid, it is impossible to watch this film and not feel a part of it.
If you are up for watching this film, make sure you have a box of tissues nearby because they will be needed — especially if you have ever lived something like this in person. It hits all the soft spots that were once hurt.
Picoult has a way of getting messages across to her readers and in this case, viewers.
With this film it is very important that the audience see and value the family he or she may have and maybe even do a few things differently.
Some of the major actors in this film are Abigail Breslin, Sofia Vassilieva, Cameron Diaz, Jason Patric, Heather Wahlquist, Evan Ellingson and Alec Baldwin.
Picoult also wrote other books like "The Pact," "Perfect Match," and her most recent "The Storyteller."
Rating: A