Musician finds inspiration in all sounds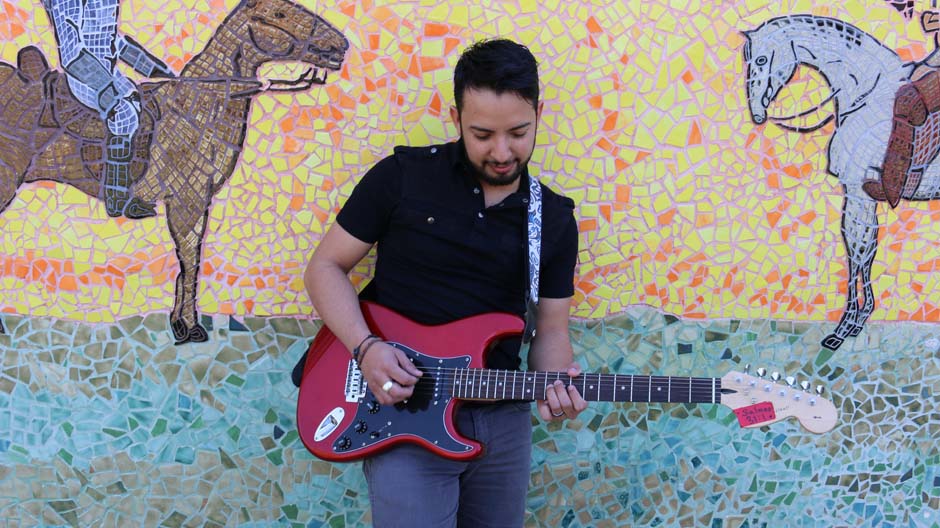 Benjamin Rodriguez has a passion for music. He said his commitment to audio production has grown as he works on his own music album, scheduled to be released this summer.
"The greatest gift my mom has ever given me was a keyboard," Rodriguez said.
Born and raised in Oklahoma City, Rodriguez said, he taught himself to play by listening to music, buying his own music books, and disciplining himself to practice.
Hours upon hours were spent practicing his guitar and keyboard, although he never had a professional music teacher. Rodriguez said God was his instructor.
Rodriguez said he wrote his first song, "Tree Top," when he ran away from home at age 13. He said his family was dealing with personal problems and songwriting was his way of talking with God.
Rodriguez said the four instruments he's mastered are guitar, piano, drums and the bass.
"Just as a painter can paint masterpieces with brushes, I think that as a musician, I like to paint with music," Rodriguez said. "And I've yet to show the world."
He said the album is a self reflective work, Rodriguez said.
Music is a big part of Rodriguez's life. He said he works with local bands and musicians on their music production as well as his own.
Rodriguez said he's also the music director at Crossings Comunidad Cristiana, the south campus of Crossings Community Church, where he leads a group of 14 during church services and rehearsals. He said he constantly researches web based programs to communicate with the team effectively.
Not only has Rodriguez been able to serve at his church but has traveled throughout the state of Oklahoma and Texas, and internationally to Mexico, playing at different churches.
Rodriguez said those experiences have taught him how to work better with people, have given him the opportunity to connect with others, and teach others what he knows about music.
The love of music doesn't stop at songwriting and composing music but reaches to the soundtracks in film.
Rodriguez said he became the first in his family to pursue an education outside of Oklahoma when he decided to move to California, where he was accepted to the Los Angeles Recording School for a year-long audio engineering program.
The program provided Rodriguez and fellow classmates the unique opportunity to work alongside some of the best of the best audio engineers on state-of-the-art equipment.
Instructors of the program included the professional audio engineers at Disney, Pixar and Paramount Pictures, Rodriguez said. Students worked on post production audio and made custom sound effects.
After a year of the program, Rodriguez was a certified sound engineer, he said.
To this day, Rodriguez said, he continues to record his own sound effects and has built his own personal sound effects library.
"A couple of weeks ago I was working with a musician and I was picturing some sounds floating in my head, and I had to stop and record what I was thinking," Rodriguez said.
Prior to moving to California, Rodriguez took some courses at OCCC. As an OCCC student, Rodriguez said he was challenged to write his own screenplays, direct his work and compose music as part of class assignments.
A trailer for the short film "The Donor" was written, directed, and produced by Rodriguez, he said. The trailer is available on YouTube.
During his courses, Rodriguez said he also worked as a foley artist, a person who perfects sound effects post-production for a film and was a boom operator, the person who holds the microphones above actors.
Rodriguez said he enjoys making things sound realistic. "You can do whatever you want with film, depending on what your vision is."
He's currently three credits shy of an associate's degree in film, Rodriguez said. "I've planned to come back in the fall 2016 to finish up my degree."
To check out Benjamin Rodriguez's film projects and guitar solos, search Benji Rodriguez on Facebook and YouTube.