Musical theater camp mixes pleasure with showbiz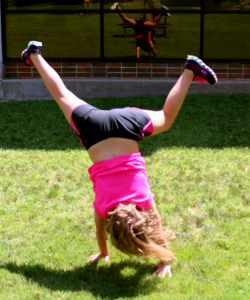 Several area first through third graders participated in OCCC's Musical Theatre Academy the week of June 22. Campers auditioned for their favorite roles in "Pajama Party," a stage production written by OCCC camp counselors just for them.
Community Outreach and Education Director Jessica Martinez-Brooks said students rehearsed lines and practiced choreography throughout the week with the occasional break for swimming and other activities.
"With little kids you've got to keep in mind that they've got to get their wiggles out," she said.
College for Kids Classes are offered for first through eighth graders, through July 25.
So far, 4,743 young students have enrolled in OCCC's College for Kids 2015 Summer Camps.
Martinez-Brooks said each week offers a new subject for campers to explore ranging in topics from robotics to musical theater to crime scene investigation.
"We have kids who enroll all summer long and do a different camp each week," she said, "but there are still spots available for several of our camps."
Parents can enroll their children in OCCC's College for Kids summer camps until 5 p.m. on the Thursday before the desired camp begins, Martinez-Brooks said.
She said classes are taught by local school teachers or highly qualified and experienced instructors.
Class size is limited to 25 (unless specified otherwise). When registering, parents must use their child's fall 2014 grade level.
For more information, call 405-686-6222 or visit www.occc.edu/coe.