Music lovers invited to hear stylings of Roz Brown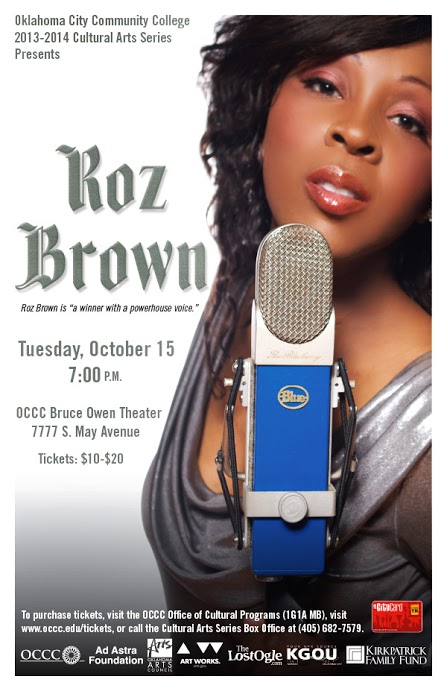 Music lovers who like the sound of Tina Turner and Natalie Cole, with a little bit of soul and jazz mixed in, are really going to enjoy vocalist Roz Brown, said Lemuel Bardeguez, the director of Cultural Arts at OCCC.
She is the second performer in the OCCC Performing Arts Series who will take the stage at 7 p.m. Tuesday, Oct. 15, in the Bruce Own Theater.
Brown is originally from Ardmore and has been singing since the age of 3 in her local church, according to the Oklahoma Art Council's website, www.arts.ok.gov.
"I have known Brown for many years …," said Bardeguez."She is a great woman and an amazing entertainer."
Even though she lives in New York, he said, she was more than happy to fly out and perform at OCCC.
He described Brown's performance as exciting. He said that it's very soulful, with jazz and rock 'n' roll.
She also sings classic songs and show tunes. Brown sings songs that people of every age will enjoy, Bardeguez said.
He said many people do not know that Brown used to own a recording studio in Ardmore with her husband and another friend of theirs. What they would do is fly artists from New York, Los Angeles, or from wherever they were in the country, to Ardmore so they could record their album in private.
Since Brown owned the studio, she could provide everything the artist would need to record, like private plane trips on a private airstrip, food and housing while the artist was recording.
This made the recording studio have more of a family feel and not be all business all the time, Bardeguez said.
Brown is also an accomplished television actress, having played different roles on shows like "Law and Order," "All My Children," and "Third Watch," which is listed on her webpage on the Oklahoma Arts Council.
She is also a Broadway performer, playing in "Footloose," "Dreamgirls," and "Hair," just to name a few from her website.
Tickets are on sale now. The cost for students is $10, for seniors $17, and for general admission $20.
For more information about Roz Brown, tickets to the show, or upcoming Performing Arts Series performances, call 405-682-7579 to speak to someone in the Cultural Arts Department.