Movie screening and more at Labor Day event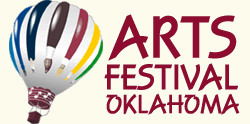 Arts Festival Oklahoma returns to OCCC this year with a variety of new events, said Deirdre Steiner, Marketing and Public Relations assistant director.
Steiner said there is something for everyone to enjoy — one being the premiere of the remastered "Oklahoma."
The film was shot in two different formats — 35mm and 70mm, Steniner said. The version everyone is used to seeing is the 35mm. The 70mm, or the remastered film, is what will be shown each day at 1 p.m. in the VPAC Theater throughout the Arts Festival from Saturday, Aug. 30, through Monday, Sept. 1.
"It looks way better," she said. "They've (also) redone the sound."
Steiner said the free daily showing gives festival goers a chance to relax while also seeing something new.
"Saturday, Sunday, and Monday at 1 p.m. it's open to the public," she said. "Anyone is welcome to go in, sit down and watch it.
"It's a two-and-a-half-hour film … . You can get out of the heat, cool down, and watch the movie, … get in the theater for the first time if [you] haven't been and see the film."
Movie props also will be on display, Steiner said. People can stop by and see objects — such as the surrey — that were used in the making of film.
The film will be shown on the theater's 17- by 33-foot screen with surround sound and a high definition projector, according to www.occc.edu/afo/oklahoma.Visit the website for additional information.
Another event added to AFO this year is the Oklahoma Energy Soccer Team meet and greet, Steiner said.
The team will be stopping by on Saturday, Aug. 30, to meet people from the community.
"Some of the players will be here so you can meet your favorite Energy player," she said. "They're bringing this giant inflatable goal so kids can play around and stuff," she said. "It will be kind of a fun thing."
News9 also will be stopping by AFO for a meet and greet from 11 a.m. to 4 p.m. Sunday, Aug. 31, Steiner said. She said fairgoers can stop by and talk to some of their favorite news anchors.
Steiner said she is excited about all of the new events.
"They've added quite a bit this year," she said. "There's a lot more to do. There are some things indoors to do that will cool you down if it gets hot."
Connect with AFO on social media by visiting their Facebook page at www.facebook.com/occcafo.
Check out their Instagram page @occcafo and use the hashtag "#afo" for any pictures you take during the event.
For more information, contact Marketing and Public Relations at 405-682-7590 or visit www.occc.edu/afo.
Related articles: