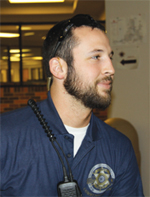 Sarah Hussain/Pioneer
OCCC Police Dispatcher David Madden is growing out his facial hair in observance of Movember, an initiative to raise awareness of men's health.
Movember is the month for men to concentrate on their health and to grow a whopping moustache while spreading the message to others, searching for a cure to prostate cancer.
''Movember'' is a worldwide annual celebration of the moustache, which takes place throughout the month of November and its purpose is to highlight men's health issues, particularly awareness of prostate and testicular cancers, according to www.movember.com.
Neil Woodward, a colorectal doctor with the Advanced Colorectal Associates of Oklahoma City, said symptoms of these cancers are not experienced by all.
"The main ones are frequent and painful urination, blood in the urine or semen and pain or stiffness in the lower back, hips or upper thighs," Woodward said.
One of the main reasons for the rise of Movember is because men are particularly lax when it comes to looking after their health in comparison to women.
Prostate cancer facts
• It's the most common cancer in men.
• It's the second most common cause of death from cancer among white, African American, American Indian/Alaska Native, and Hispanic men.
• Prostate cancer has been increasing steadily in the U.S. for several decades. Data from the National Cancer Institute's Surveillance, Epidemiology and Results program (SEER) are adjusted to take into account the fact that the U.S. population is gradually growing older.
• There are many potential causes for prostate cancer, such as genetic factors, which account for as much as 5-10 percent.
• This leaves 90-95 percent unexplained. The greatest increase in prostate cancer during the second half of the 20th century is likely due to a change in the environment and/or lifestyle.
"On the whole men are much more reluctant to discuss health issues publically and also more likely to put off a trip to the doctor until absolutely necessary because of painful symptoms.
"Of course, by the time an illness has taken hold to the extent where there is constant pain or discomfort it may be too late to receive a cure. That's doubly tragic as many conditions that lead to death can be cured at the early stages of detection," Woodward said.
So according to the Movember founders, Movember aims to get men more health aware by putting a fun twist on extremely serious issues.
David Madden, OCCC police dispatcher, was one out of the five men asked around campus who knew the meaning behind Movember.
Local workshops offered
Men's Health University by INTEGRIS is designed to educate men and their families on the importance of men taking charge of their own health. Here are some in the Oklahoma City area:
INTEGRIS Baptist Medical Center
3300 NW Expressway Oklahoma City, OK 73112
405-949-3011
INTEGRIS Canadian Valley Hospital
1201 Health Center Parkway Yukon, OK 73099
405-717-6800
INTEGRIS Health Edmond
4801 INTEGRIS Parkway Edmond, OK 73034 405-657-3000
INTEGRIS Heart Hospital
3300 NW Expressway Oklahoma City, OK 73112
405-949-3011
INTEGRIS Hospice House
13920 Quailbrook Drive Oklahoma City, OK 73134
405-848-8884
INTEGRIS Jim Thorpe Rehabilitation
4219 S. Western Oklahoma City, OK 73109 405-644-5200
INTEGRIS Mental Health: Spencer
2601 Spencer Rd. Spencer, OK 73084 405-427-2441
INTEGRIS Southwest Medical Center
4401 S. Western Ave. Oklahoma City, OK 73109
405-636-7000
"Anything for Movember," Madden gladly said when asked to take his photograph.
"Mo" is slang for moustache and replaces the "No" from the eleventh month of the year to produce Movember.
During November, men's health issues are highlighted and the entire program is presented in a jovial way but delivering a serious and worthy message: to raise funds and find a cure for prostate cancer.
Consistent with the website, the Movember Foundation is a nonprofit charity that operates worldwide and is responsible for promoting the health initiative each year.
It started in 2003 in Melbourne, Australia by a group determined to bring back the moustache as a fashion item.
The following year the campaign became associated with raising funds for prostate cancer and managed to bank an impressive AU $55,000 on behalf of the Prostate Cancer Foundation of Australia.
Over the last five years the campaign has expanded throughout the western world raising more than $174 million for prostate cancer research.
Woodward said there are many preventative methods one can take.
"Like anyone will say, by eating healthy and exercising, you cut down on any type of possible sickness or disease. Eat fewer calories, cut back on fat intake, watch how much calcium you consume, eat more fish and vegetables," he said.
"The more you know about the normal development and function of the prostate, the better you can understand how the cancer develops and impacts a man's life over time," Woodward said.
To contact Sarah Hussain, email staffwriter3@occc.edu.