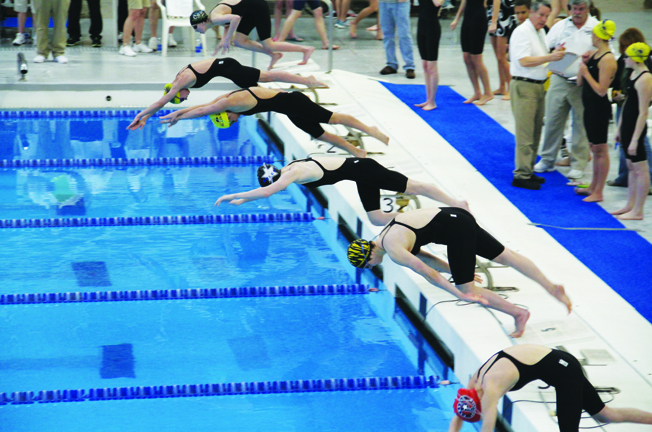 San Diego State University Women's Swim and Dive team won their first Mountain West Championship ever in school history at OCCC during the last weekend in February.
The University of Nevada-Las Vegas Men's Swim and Dive team won their seventh in a row Mountain West Conference Championship.
OCCC hosted the Mountain West Conference Championship Swim and Dive Meet from Feb. 24 through 26.
Teams from across the Mountain West found their way to Oklahoma City to compete, as they have for the past 12 years.
The Mountain West conference includes Brigham Young University, San Diego State, UNLV, Colorado State, New Mexico, Utah, Air Force, Wyoming and Texas Christian University.
Nicole Pryzbyla, a BYU diver, said she worked for months preparing for the event.
"We had to physically, mentally and emotionally prepare by going to two practices a day," Pryzbyla said.
Pryzbyla is a part of a prestigious program that has won nine Mountain West Conference Championships in the past 11 years.
BYU finished the season with a 9-1 record.
Pryzbyla said she was impressed with how OCCC's staff handled the event.
"People are really nice here and everyone has been great," she said.
The swim meet also brought many new responsibilities to OCCC's lifeguard Kimmie Reneau.
"We definitely had to do a lot of deep cleaning," she said.
Reneau, a swimmer at Westmoore High School, competed at the OSSAA High School State Championship earlier in the month at OCCC where, she said, she placed second.
"It's a honor to work for the swimmers," Reneau said.
"I want to be a swimmer in college so it's a good experience for me."
Former Recreation and Fitness employer, Stephanie Stewart, volunteered to help time the races.
Stewart said her love and passion for this swim meet led her to her decision to volunteer.
For more information about OCCC's Aquatic Center or future swim meets, visit www.occc.edu/rcs.