More than 100 gather for child development conference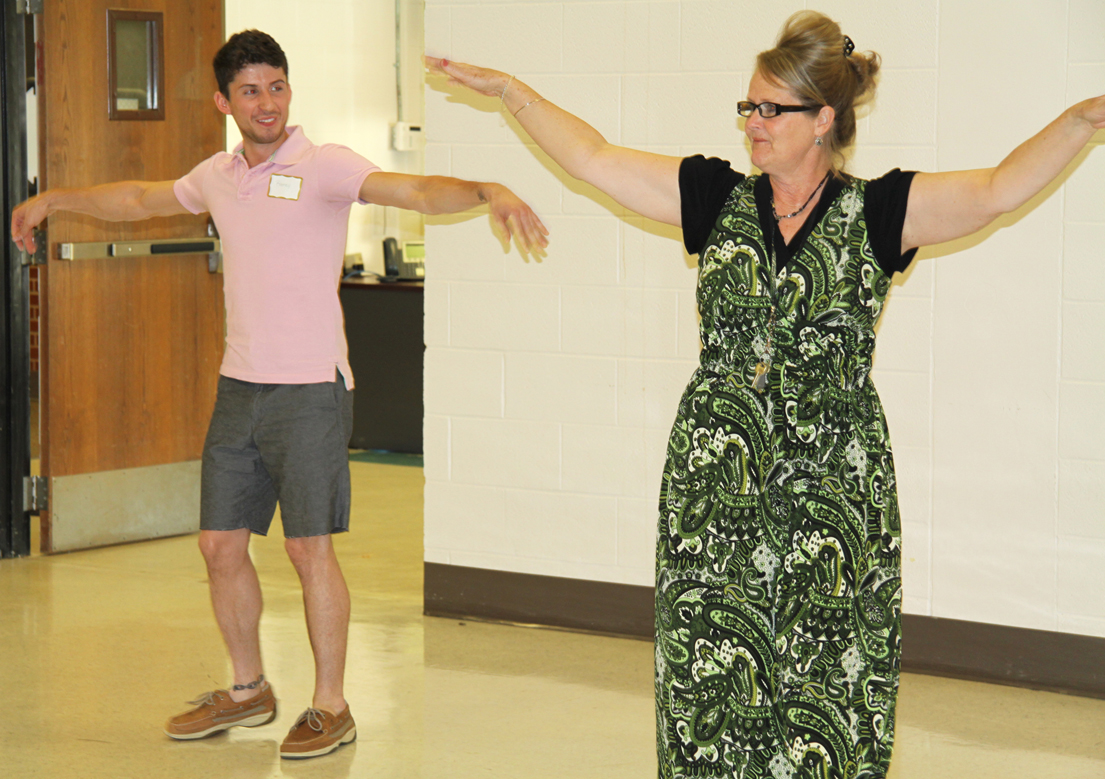 Whitney Knight/Pioneer
Ramey Price, Child Development Center and Lab School teaching assistant, dances with teacher Constance Pidgeon as part of a demonstration at the 2012 Early Childhood Conference. The CDCLS welcomes child development professionals from around the state for the conference, which is held every year.
Milking imaginary cows, flapping faux buzzard wings, and singing along to songs about a big red dog was just another day's work for more than a hundred child development professionals who recently gathered at OCCC's Child Development Center and Lab School for an annual conference.
The sixth annual Early Childhood Conference was held May 15 and 17 at the CDCLS, located off-campus at 6500 S. Land Ave. in Oklahoma City.
Teacher Heather Pierce, who helped organize the conference this year, said the event's purpose is to provide "an opportunity for child care providers in central Oklahoma to learn and grow as professionals in the early childhood field."
"We want them to understand the vital importance of having an education, not only for their personal and professional benefit, but also for the benefit of the children and families they work with each day."
More than twenty different learning sessions were held during the two-day conference, many of them taught by CDCLS faculty and staff members.
One of those sessions, "Music and Movement," was hosted by CDCLS teacher Constance Pidgeon and teaching assistant Ramey Price on May 17.
"Music is a language and children are oriented to learning language," Pidgeon said. "Music evokes movement and children delight in and require movement for their growth and development."
Whitney Knight/Pioneer
Audience members at the 2012 Early Childhood Conference laugh during a dancing exercise led by Child Development Center and Lab School teaching assistant Ramey Price and teacher Constance Pidgeon (not shown.)
Music not only engages the body, Pidgeon said, but also the brain, by stimulating abstract thinking, empathy, and mathematical skills. She said it also transmits culture because songs, rhymes, and dances are passed down from one generation to the next.
As part of their demonstration, Pidgeon and Price, also a licensed Zumba instructor, sang and danced to children's songs, including "Did You Feed My Cow?" by Ella Jenkins.
Called a "response song," the bovine ballad required audience members to nod their heads, milk an imaginary cow, and flap their arms like buzzard wings.
"Kids love it," Pidgeon said, as the audience laughed at the silly words and movements.
Another song, a child-friendly take on "99 Bottles of Beer," featured Clifford the Big Red Dog and his dog bones, counting down from five bones that made the pup "smile, Clifford, smile" to no bones, making him "sad, so sad."
"Children are naturally active, so channeling it into some music and movement or some kind of an exercise … is perfect," Pidgeon said.
Several employees at the CDCLS are involved with planning the annual conference, Pierce said.
"We start planning for it the day after that year's conference concludes," she said.
This year, Pierce said, all of that hard work paid off.
"It was a great success," she said. "When you can reach that many early childcare providers with professional and practical information, you help a lot of children."
For more information about the CDCLS, contact the center at 405-682-7561.
To contact Whitney Knight, email onlineeditor@occc.edu.