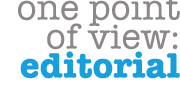 Have you heard? Green is the new black.
It's the color that goes with everything.
From using fluorescent light bulbs to buying electric cars, 'going green' — that is, becoming environmentally conscious in all your decisions — is quickly becoming a way of life in the U.S.
Here at OCCC, however, the trend has yet to catch on.
Every day, school trash cans overflow with the usual suspects: aluminum cans, plastic bottles, and discarded newspapers and white office paper.
Much of this could, and should, be recycled.
According to the U.S. Environmental Protection Agency, recycling is one of the easiest ways to go green.
Recycling reduces pollution, saves energy, lessens the need for garbage landfills and incinerators, and conserves natural resources such as timber, water, and minerals.
Recycling takes little effort and achieves great results.
However, even the simplest of tasks are unachievable when the means to complete them are not readily available.
In the Main Building, where most campus traffic takes place, the only recycling receptacle on hand is located just outside the entrance of the Communications Lab.
Even in the College Union, where it would seem most recyclable materials go to waste, no similar container is available.
For students who are busy juggling heavy textbooks, laptops, backpacks and more, toting empty bottles and food containers around campus to find that one recycle bin isn't practical.
If more recycling bins were available on campus, more students would be apt to use them — and OCCC would be a better place for it.
For a campus community of more than 14,000 students, faculty, and staff members, becoming environmentally conscious seems like a mammoth task, and for one person, it might be.
But if OCCC were to come together and make a unified effort, that mammoth is more like a mouse.
Late cultural anthropologist Margaret Mead once said: "Never doubt that a small group of committed people can change the world.
"Indeed, it is the only thing that ever has."