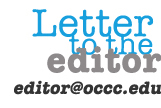 To the editor:
Happy New Year!
A new year often brings new changes and 2012 is certainly not going to be an exception. As OCCC begins a new spring semester, we also begin the visible change from ANGEL to Moodle. The first of those visible changes occurred today with the change of the page at online.occc.edu. This has been the "ANGEL log on page" for the past several years. However, this page has changed in an attempt to support our students during the LMS change. The new page contains a link to the ANGEL log on page, a link to the Moodle log on page, and a link for help information. You will also notice a change on the college homepage to include Moodle on the quick links.
How will students know if their class is being taught in Moodle? On this new page, there is an alphabetical list of sections being offered by title.
There will also be an announcement in the ANGEL section directing the students back to Moodle for their course content. A student orientation will be available in both systems to assist students as they learn to use them.
For your convenience, you may continue to access ANGEL directly from http://angel.occc.edu if you want to bookmark this page to save you a few mouse clicks.
We will continue to keep you updated as things progress. If you have questions, please feel free to let me know [at gwhisenhunt@occc.edu].
—Glenné Whisenhunt
Director of the Center for Learning