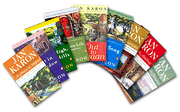 Do you need a good book to read? Pick up a copy of Jan Karon's book "At Home in Mitford."
Full of charm, faith and many other wholesome qualities, this is a great leisure read.
I bought a mystery box of books at the annual fairgrounds book sale this year. In my box was the first three books in the Mitford series.
The series is about Father Timothy Kavanagh, an Episcopal priest who is set in his ways and not at all happy about it.
His life becomes disrupted when a large black dog begins to follow him around town. Initially he wants nothing to do with the oversized dirty animal but eventually the dog, now named Barnabas, begins to disrupt Father Tim's "ordered life."
Barnabas gets the Father into all kinds of crazy and messy situations, and will only desist when scripture is quoted to him.
Barnabas is the first step toward Father Tim opening new doors in his life and his heart.
When an elderly parishioner becomes ill and is hospitalized, Father Tim takes in the man's grandson, Dooley. Hello disruption number two.
Number three is an attractive neighbor who slowly works her way into Father Tim's life.
These three characters change Father Tim's life in many ways. His faith is strengthened and renewed. His life has substance and he begins to dream again.
This book follows the lives of all in Mitford with a small town charm.
I cried, I laughed and I couldn't put the book down.
For a book that will stay with you and change your view of life, read "At Home in Mitford."
For more information, about the entire "Mitford" series go to www.mitfordbooks.com.