Missah BB cream a nightmarish disaster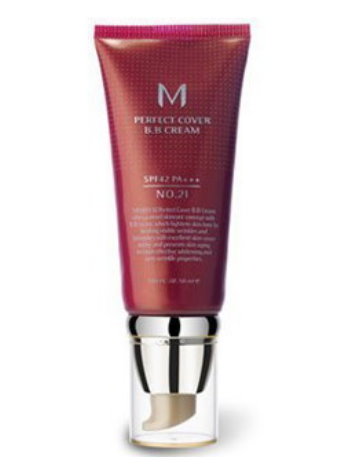 As I've divulged before, I'm admittedly a cosmetic-buying addict. Recently, I started the search for a perfect BB cream and my investigation led me to making the decision to purchase through amazon.com.
For those of you who don't know, a BB (short for blemish balm) cream is a makeup base that is meant to act as a concealer, moisturizer, sunblock, primer and foundation. Ideally, using a good BB cream means that instead of putting on two or three different products, you only have to use one to get the same results.
If you know much about makeup, you'll know that not all BB creams are created equal. Most western-market BB creams only really act as a tinted moisturizer that is light on the skin but also doesn't provide much coverage. More traditional eastern-market BB creams are formulated to provide a heavier, more sturdy coverage that masks even the most stubborn imperfections.
Knowing I have skin of a yellow hue but that is extremely rosy on my cheeks, I decided to go for more full coverage which had me on amazon.com, shopping American-based South Korean stores for my perfect BB cream match.
I eventually settled on Missha M's Perfect Cover BB Cream. The BB cream had overwhelmingly positive reviews so I waited anx- iously for my order to arrive.
For the first week I used the product, I was very pleased with it. The BB cream went on a strange gray color but miraculously and flawlessly oxidized to match my skin tone perfectly in a matter of minutes. I found that the formula was nice and buildable. Depending on the look I was going for, I could easily create more or less coverage to make my face look more or less polished.
After about two weeks of using Missha's BB cream, I started to discover a few small pimples on my chin and jaw. It was weird to me, as I've always had relatively clear skin. Sure, I'm only human and I get a pimple every now and then, but until I used this product, I'm guessing that I maybe had two blemishes a month (if that) on my face.
This BB cream caused what was the worst breakout of my life. An algae compound in the product didn't react well with my skin, and I had at least 10 pimples on my jaw and chin. It was painful, unsightly and downright terrible.
I started researching more reviews and found that the seller of the BB cream had purposefully hidden negative reviews (of which there were a ton) by people who had the same problem I did.
On top of that — as if I weren't already dissatisfied enough — I discontinued use of the product and found that it had been whitening my skin. Yes, indeed, the BB cream had already begun to bleach my skin. Can you say yikes? The whole ordeal was nightmarish.
I wouldn't recommend a Missha BB cream to my worst enemy.
Rating: F