Editorial: The U.S. needs a tough hardcore fighting force
It has been said that America has the world's greatest fighting force. Our military is unmatched and undefeated.
But from what used to be rigorous training and an unrelenting push to be "army strong" or "the few, the proud" is slowly turning into just strong and the few who are proud.
The decline in those once boastful ooh-rahs and hooahs is not credited to the decreased deployments, but to the lowered expectations to comfort the overprotective mothers, and suit-and-ties without an understanding of the military.
U.S. Marine Corps Lt. Col. Kate Germano was the commanding officer of the female recruiting depot at Parris Island, South Carolina, until she was relieved of her duties on June 30.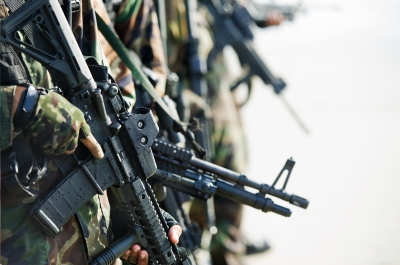 According to a command investigation of her, she was found to be "hostile, unprofessional and abusive."
Excuse me, but I doubt there are moral and ethical terrorists, enemies and mercenaries to give our soldiers, marines, airmen and sailors stress cards.
Our military did not grow to be elite by cutting back or singing lullabies in training.
Germano was tough and hardcore for a reason that is being lost amid the cries for mommies and daddies. It's so those under her command can be prepared for what they may face while enlisted.
Marine Corps Times said Parris Island officials confirmed the rifle qualifications from 2014 to 2015 increased from 79 percent to 91 percent for female recruits under Germano's command.
Well done, ma'am. Well done.
Leadership that strives to bring out the best and readily prepare others is what we need — not thumb-sucking individuals who barely get by.
As a Marine Corps veteran, I know firsthand what the training is like.
As a veteran, I can speak about how there is no need to lighten up or go easy during training.
Costsofwar.org shows more than 6,000 deaths of U.S. military personnel in Iraq and Afghanistan from 2001 to 2014. I hope none of those deaths were due to poor training because of political agendas or the pity-me tears I've seen firsthand.
Those who sign on the dotted line to join the U.S. military write a blank check for anything and everything, including their lives.
I've signed and, with the possibility of maxing out that check, I sure hoped I had the best training I could get.
This country may not be in any major wars nor are we shipping troops out on a rotating cycle by the thousands like we were not too long ago, but keeping up the training and preparedness keeps us from getting soft, lazy and forgetful.
These men and women are there to keep our freedom.
They are our sons, daughters, mothers, fathers, cousins, friends and family. I know I want them to have the best training and mentality for what may come their way.
Once they leave U.S. soil, there are no moms or sympathizers. There are no hand holders or stress breaks. On foreign soil, all they have are their buddies next to them and their training.
Don't try to stop them from getting the tough, hardcore and elite training to be prepared should they need it.