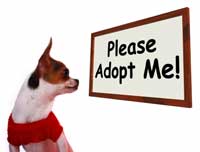 To the Editor:
Each year, hundreds of thousands of animals end up in shelters nationwide. In Oklahoma, thousands are sheltered for a variety of reasons: some are abandoned; some are lost and some are given up by owners who no longer feel they are able to care for the pet.
When these animals aren't taken in by another loving home, they are almost always put to death.
Anyone who is wanting to save a fur person but doesn't have the money to pay for the adoption and initial shots can take advantage of a couple of free offers.
According to a flyer posted on their Facebook page, "Midwest City Animal Welfare has teamed up with local philanthropist Bobbie Burbridge Lane to offer free adoptions in 2015.
"If you are willing to give a loving home to an animal in need, the adoption fee will be sponsored by this program. All you have to do is provide unconditional love.
"Must have a valid ID and be 18 years or older. All animals will be spayed or neutered before leaving the shelter. No exceptions. MWC Animal Welfare reserves the right to refuse adoption."
The MWC Animal Welfare is located at 7221 NE 36th St. They can be reached at 405-427-6640.
In addition, according to a post on Facebook by Friends of the Midwest City Animal Welfare Center, you can then take your pet and adoption papers to The Dog Groomer located at 7825 NE 23rd St. in Oklahoma City within 10 days after adopion for one free grooming session.
The number for The Dog Groomer is 405-468-5932.
Please consider adopting an animal into your family, giving it a forever home.
Also, if you have animals, spay or neuter them. There are already enough animals in the world that need homes. No one needs to add to that growing number.
And, lastly, don't use animals to make money or pay for animals. Before you buy an animal from an individual, consider adoption instead.
The MWC Animal Welfare does take donations. It's a great thing to do and is a tax write-off.
To contact Ronna Austin, email onlineeditor@occc.edu