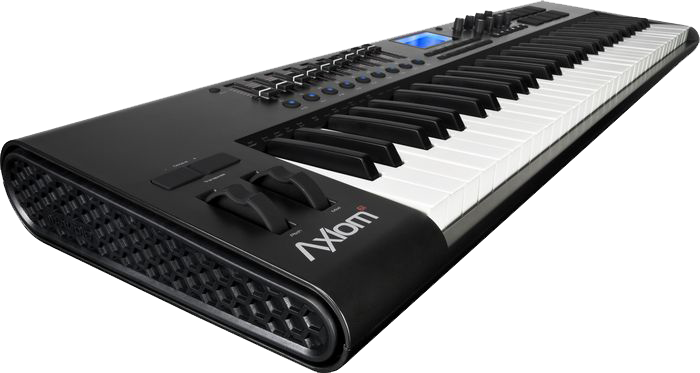 I am a music junkie and it has always been my dream to produce my own music. One of the most basic tools people start out with to help make that happen is a MIDI controller, which is a keyboard that produces sound through a computer with the proper software.
I had been wanting one for a long time so I decided to spend all my Christmas money on the M-Audio Axiom 61 2nd Generation 61-key USB MIDI Keyboard Controller.
The Axiom was originally $399.99, but I found it on clearance at Guitar Center for $299.99, which happens to be the same price as the M-Audio Axiom 49 2nd Generation 49-key USB MIDI Keyboard Controller.
I was really excited that I could get the same exact controller for the same price but with more keys.
I looked at quite a few different MIDI controllers before deciding on the Axiom. The deciding factor was definitely the semi-weighted keys.
I have been playing piano for 13 years so I prefer a keyboard that plays like an acoustic piano. The Axiom is the best MIDI controller I have played that imitates an actual piano.
The Axiom also has the standard features that most controllers have such as: MIDI trigger pads, and assignable buttons, knobs, and sliders. The display screen also is very well-lit and easy to read.
I use Mainstage through Logic Pro 9, software that allows me to produce the sound for the controller.
The sounds produced are incredible.
I have even recorded a bit with the Axiom and I am very well pleased with the results, especially being my first time.
I also use the Axiom to play at my church for the youth group. It works very well in that setting.
The Axiom is extremely user friendly and is pretty much self explanatory.
I would highly recommend the MIDI controller to anyone who is interested in producing their own music. I also would recommend it to anyone playing for an audience. It is a great versatile MIDI controller.
Rating: A
To contact Lauren Daniel, email editor@occc.edu.