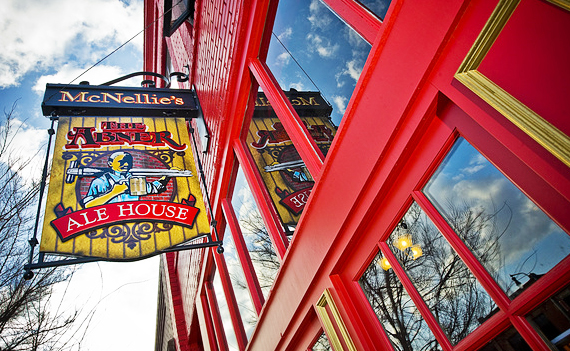 There are many great places to grab some food and drinks around Norman, but only one place comes to mind when quality and atmosphere are mentioned. McNellie's Abner Ale House, or more popularly known as McNellie's, is the ideal place to get some reasonably priced burgers and fries.
The restaurant keeps the week interesting with Monday Pint Night, Tuesday Trivia, Burger Night Wednesday, Live Music Thursday and Follower's Friday, which is where you tag your friends on social media with a hashtag with two f's, or #ff, to get special prices on their Boulevard Wheat brew.
I've visited McNellie's most frequently on Wednesday nights — burger night. The old pub styled restaurant has burgers and fries for $4. The fries are salty and the burgers are juicy. What more could you want?
Beer, you say? Well, they have that too. An apparent wide selection of brews that will keep you and your friends occupied for the night with 200 beers and counting, according to www.mcnelliesnorman.com.
"We are proud of our beer selection. It is one of the largest in the region. We offer a collection of hard-to-find draught and bottled beers from all over the world, and an extensive scotch selection," according to the website.
The atmosphere is probably what I enjoyed most next to the food. It's a narrow, wooden floored, two story filled pub with a semi-rowdy gathering of regular people and college students.
Even the staff at McNellie's was very personable and inviting during the visit — running around the tables with food, drinks and smiles to make sure everyone was having a good time.
Going to this joint on any given night of the week should be a promising experience for someone looking to have a good time with some friends.
McNellies is a red-painted brick building wedged right next to Syrup and Guest Room Records on 121 E Main Street. Just follow the sound of laughter and look through the glowing window to watch memories being made.
Rating: A