May 26 bomb threat prompts evacuation
A bomb threat prompted OCCC police to evacuate the main campus on May 26.
Campus police dispatch received the threat by phone around 5:10 p.m. from an unidentified caller.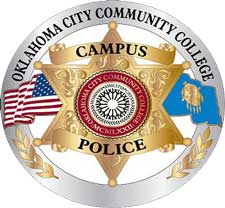 Reports said the caller used a digital voice and said a bomb had been placed in the library by his friends and the device would detonate at any time.
The threat continued with the caller telling the dispatcher that four of his friends with semi-automatic weapons were setting up in the library.
The call ended at about 5:20 p.m. and dispatch notified Oklahoma City police of the threat. At 5:33 p.m., the library was evacuated.
Main campus evacuation began at 6:13 p.m. after police barricaded Faculty Circle and Regents Boulevard., cleared Parking Lot B and blocked incoming traffic to campus.
Along with Oklahoma City police, campus police searched the Main Building but found nothing. At 7 p.m. the library was searched with the same result. At 7:42 p.m., it was announced the situation was clear.
In an incident on the evening of May 8, Campus Police Officer Patrick Martino reportedly came across two people in a vehicle in Parking Lot E "engaged in sexual intercourse" while he was on patrol.
The names of both individuals were redacted in the report.
Both are students at East Central University in Ada.
They were issued a Notice to Leave OCCC and no further incident with the individuals was reported. The original police report shows supplemental photos that were requested but not provided.
Campus police reported flooding and damage to the college after severe weather moved through the evening of May 23.
At the time, the campus was closed except for a special event in the VPAC, according to the report from Officer Jeremy Bohannon.
At about 5:45 p.m., police informed those in the VPAC of the approaching storm and instructed those wanting to remain on campus to stay within the safer area.
"Approximately 10 persons remained behind until the tornado warning expired," the report stated.
Afterwards, flooding was found to have occurred in the Bursar's office hallway, the Main Building Atrium, the Aquatic Center, Library and the Social Sciences Center.
A ceiling tile in the library "ruptured and pieces fell on the floor" near the main circulation desk. The retention pond also was reported to have flooded onto surrounding sidewalks up to Regents Boulevard.
Facilities Management removed standing water from flooded areas.
Some information was redacted from the reports under the direction of Marketing and Public Relations Director Cordell Jordan who said names are redacted "according to OCCCPD Standard Operating Procedures involving information released and information withheld."
To obtain a copy of the procedure, email cjordan@occc.edu.
To contact campus police, call 405-682-1611, ext. 7747.
For an emergency, use one of the call boxes located inside and outside on campus or call 405-682-7872.