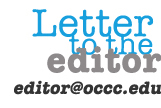 To the editor:
If you are a current OCCC student, you can (now) enroll for your spring classes.
I know that you have many options on where to go for advice, and friends seem to be a popular choice.
While you may trust your friend's opinion when suggesting a nice restaurant or what outfit looks best, I encourage you to seek more professional advising when creating your academic plan.
In the spirit of Advising Month, stop by the Office of Academic Advising to see an adviser and get ready for the spring semester.
In case you are not familiar with it, here is what the Academic Advising Office at OCCC has to offer:
You can come in and meet with an adviser to get help planning your future.
Advisers offer information as it pertains to the course offerings and your degree program.
They have the most up-to-date information on courses and degree plans, and will help you to plan your schedule.
Our peer advisers have been trained by the best. They are students just like you, so they have the inside scoop on classes and professors.
The peer advisers can also show you how to use MineOnline to register for your courses.
If you have already chosen a major, confirm your major in Academic Advising and you will be assigned a faculty adviser.
The faculty adviser is a great resource for you as you work through your major coursework at OCCC.
They will help you make more specific degree and career related decisions.