Many activities on Student Life schedule this semester, coordinator says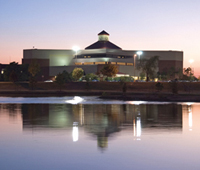 Student Life is hosting many of their traditional programs in addition to plenty of new ones this spring semester, said Amy Reynolds, First Year Experience and Student Life Programs coordinator.
Presently, a handful of New Student Orientation sessions are being held.
And, coming up next week, is a set of activities planned for Welcome Week.
On Tuesday, a station will be set up outside of the College Union, where students will be able to design their own coffee mugs. On Wednesday, a performer, Musician Zane Williams, will visit campus.
Plus, on Friday, tickets will be going on sale for the OCCC Night at the Barons, a hockey game taking place later this month.
Brown bags are also back and will occur once a week this semester. Sessions include study skills, online learning, financial planning, healthy relationships and more.
And, in March, Celebrate Students Week is taking place.
"We're going to be focusing a lot on awareness," Reynolds said. Included are a Beer Goggles Obstacle Maze and a lecture by the Date Doctor, David Coleman.
A car care session is on the agenda, as well. During the month of April, students will get detailed tips on exactly how to manage and take care of their cars.
"One of the new programs that we have going on this spring that we're really excited about is our Strengths Quest Seminar series," Reynolds said.
Occurring on Mondays in February and on Tuesdays in April, students will be taking online assessments to try and figure out what their personal strengths are.
"What we're going to do is teach students how to use those strengths in their everyday life," Reynolds said.
"It's something we've never done before, so we are really excited to give students that opportunity."
"There's really a lot going on," she said.
For more information, contact Student Life at 405-682-7523. You can also view a calendar of events by visiting http://occc.campusgroups.com.
To contact Nadia Enchassi, email onlinewriter@occc.edu.