Man Attacks Vegas; 50 Dead, More Than 200 Injured
Terror struck Las Vegas Sunday.
As of 7:30 Monday morning, 59 people were reported dead and 500 were injured in what law enforcement officials are calling the worst mass shooting in modern American history.
At the Mandalay Bay casino, an outdoor music festival hosted by country music star Jason Aldean, turned to panic when a gunman began shooting people.
Police say the gunman shot victims from the 32nd floor of the hotel, firing at the crowd below. The gunman was identified by Las Vegas police as 64-year-old Stephen Paddock. Paddock, law enforcement officials said, was from Mesquite, Nevada and had a history with law enforcement.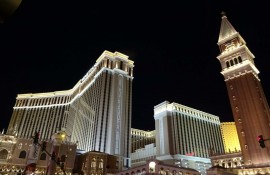 Paddock took his own life before the police were able to get inside his room. When police raided the room. Police found more than two dozen weapons.
A second person of interest, Nevada-native Marilou Danley, fled as police stormed the casino. She was arrested early Monday morning but police said she, "is no longer being sought as a person of interest."
Police said the attack was not linked to any form of foreign terrorism.
Paddock's car was top priority for law enforcement. After hours of searching the city, the car was located. Authorities found several pounds of ammonium nitrate, a material used used to make explosives.
Multiple eyewitness reports said the gunfire was rapid and sporadic. Witnesses said an assault rifle would fire off 30 rounds into the crowd and then pause. This process repeated six times. People said the assault sounded like fireworks shooting from the top floor.
It wasn't until musician Jason Aldean fled the stage that people fell to the floor in cover. Even as people ran from the casino, the gunfire continued. Aldean posted a message on the social media site Instagram. Aldean said he and his band were safe and under lockdown.
A Las Vegas court ordered police to search Paddock's home. An additional 19 firearms and several thousand rounds of ammunition were found. Family members said they were surprised. "We were completely dumbfounded," Eric Paddock, the shooter's younger brother, said. "We can't understand what happened."
Medical and government reports indicated Paddock showed no of mental illness or any affiliations to extremist groups.
David Famiglietti, the President of New Frontier Armory, insisted that Paddock met all the state and federal requirements, including a FBI background check, to purchase his weapons. A gun store in Las Vegas sold a rifle and a shotgun to Paddock in the spring, according to a CNN report.
Kelsey Rumenapp and Candice Carpenter, both from Oklahoma, flew to Las Vegas on Sunday afternoon. The pair were on their way to a conference called the Wedding MBA, a conference discussing wedding planning and events.
Rumenapp and Carpenter checked into the Marriott Hotel, about half a mile away from the Mandalay Bay. Near the end of the night, Rumenapp and Carpenter went to asleep.
When they awoke, Las Vegas was still. The place is like a ghost town and I'm interested to see how it is the rest of the day," Rumenapp said. She and Carpenter had posted to Facebook to let their friends and families know they were safe.
Since the shooting, Las Vegas has stopped all traffic coming in or out of the area and flights have been delayed until further notice.  Communication has been limited only to the law enforcement and media.
Mandalay Bay casino posted a message on Twitter, shortly after the incident: "Our thoughts and prayers are with the victims of last night's tragic events. We're grateful for the immediate actions of our first responders."
On Monday, President Donald Trump expressed his condolences. "My warmest condolences and sympathies to the victims and families of the terrible Las Vegas shooting. God bless you," Trump wrote in a message on Twitter.
Later in the day, Trump mentioned the shooting a second time.
"My fellow Americans, we are joined together today in sadness, shock, and grief. Last night, a gunman opened fire on a large crowd at a country music concert in Las Vegas, Nevada," Trump said. "He brutally murdered more than 50 people, and wounded hundreds more. It was an act of pure evil."
White House Press Secretary Sarah Huckabee Sanders was emotional on Monday. "This is an unspeakable tragedy," she said. "Today is a day for consoling the survivors mourning those we lost."
When reporters asked if the time for gun control regulations needed to be enforced, Huckabee Sanders disagreed.
"There's a time and place for a political debate, but now is the time to unite as a country," she said.
As the debate for gun control gains momentum, relief effort for the victims has been in effect. Three blood donation centers are located throughout the city and are asking for contributions to help survivors of the shooting.
House Majority Whip Steve Scalise R-LA, issued a press release, asking people across the country to give their time and their blood. "In this tragic moment, I encourage people across America to stand together in solidarity, and to support the Las Vegas community and all of those affected, especially by giving blood and encouraging others to do the same," Scalise said.
Police have urged those looking for their loved ones to call their hotline 1-866-535-5654.