Local metal band seems more like family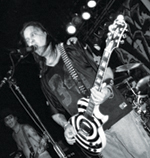 Courtesy Ginnie P. Escobedo
Jeremy Waller of metal band Left to Die plays guitar to a crowd. Left to Die will be playing at The Thirsty Hog Saloon Dec. 17.
"Family" isn't a word often used to describe a metal band, but for local band Left to Die it seems to be what set them apart from other bands.
Formed in 2009, not a young band but fairly new, Left To Die took Oklahoma by storm sharing the stage with many well known rock/heavy metal artists such as Texas Hippie Coalition, Faster Pussycat, Death Angel, Alien Ant Farm and many more.
Originally, Jeremy Waller (lead vocals and rhythm guitar) and his brother Jason Waller (vocals and bass guitar) started out playing covers ranging from Billy Idol to Motley Crue, the heroes that they grew up with.
"We had fun playing our favorite tunes but we were never really good at playing someone else's material, so we started writing our own. We were both in the school band and choir so it came as a second nature," Jeremy Waller said.
After losing two members of the band the Waller brothers met up with two old friends, Tony Bucher (drums) and George Wilkes (lead guitar).
"We have known Tony for 20 years and he has been in some of OKC's founding hardcore metal bands such as Hate&Agony," Waller said. "After a while, he wanted to join a band that was more like family so he hooked up with my brother and me."
Wilkes agreed.
"I was playing in band like 808, Apllolyon and A Strand Of Fate, which I still play for, but I was wanting something that felt more like a family than a business and that is when I found Jeremy, Jason and Tony," Wilkes said.
The four grew up in the '80s watching MTV and buying records, but everything changed in 1990 when they saw Pantera play a little club in Bricktown called KINETiX.
"After that show we all went home and took down our poser posters, and the metal really began to take charge in our music and our lives," Waller said.
"Even though we have a dark and heavy side, we still consider ourselves more hard rock than straight metal, using our background in classical, classic rock and blues to enhance our hard rock/metal sound."
As with most bands in the music industry, taking the stage and sending a message to the fans could be both a thrill and a drug.
"I believe in fate. Sometime when we are killing it on stage and I look around at who I am playing with and how the crowd is doing I feel like we were all meant to be doing this," Waller said.
"Of course with anything that is good, it is very addictive. If we as a band go too long without playing live, we get a little crazy," Bucher said.
Jeremy "Gutter" Wise, the roadie for Left to Die, has worked with the Waller brothers for 16 years.
"I love what I do, I bleed for what I do and I will continue doing it for as long as the Waller brothers continue to play," Wise said.
"We try to connect with every person we can. It doesn't matter if it's 10 or 1000, we play like it's our last stand," Waller said.
Left To Die will be performing at 9 p.m. Saturday, Dec. 17 at the Thirsty Hog Saloon located at 720 South MacArthur Blvd. in Oklahoma City. The Thirsty Hog is 21 to enter and will be charging $5 at the door. Beer will be free.
To contact Ginnie P. Escobedo, email onlineeditor@occc.edu.