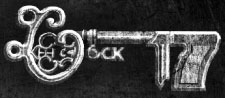 Courtesy Lock-17
Sept. 23 a local hard rock band by the name of Lock-17 performed on the main stage at Club Raw. The band really knew how to use the theatrical aspect of putting on a good show. The crowd was neither big nor small, but much like every hard rock/metal concert the crowd was on the verge of moshing.
Lock 17 consists of Justin Combs on drums, Craven Harris on lead guitar, Rick Wescott on bass guitar, Rusty Wigham playing rhythm guitar, Erica Foster, electric violinist, and Dewayne Clifton on vocals.
Combs, Harris and Wescott have been playing together for three years. Clifton, the former lead singer of Waiting For Decay, joined the band in 2010 after moving to Oklahoma from California.
"After moving here, I really wanted to get back into the music scene," Clifton said. "My manager started helping me look for a project. He told me of a band in Oklahoma City that was looking for a singer.
"When I went to meet the guys, I was blown away. They already had 20 songs laid out and the only component that was missing was the lyrics. We instantly hit it off."
Not being the typical "just-starting-out" hard rock band, snail trailing their way to recognition by covering songs other bands have already released, Lock-17 has already recorded and released a music video called Circle and then followed that up with the release of their EP "Release the Monster," all within 2011.
"We've talked about doing covers but none of us were really interested in doing anything like that. We all wanted to write original music," Clifton said.
"All the songs are Lock-17 originals! I have always tried to make each band that I have been in authentic in its own way."
Lock-17 decided to branch out and explore new roads to enhance their music. Erica Foster, electric violinist, stated she joined the band about a month ago.
"Being in Lock-17 allows me to explore a new avenue to express myself musically. Plus, I am able to be myself." Foster said.
"We had been talking about adding this element in the past, but none of us knew any players that would be a good fit," said Wescott. "We found Erica almost by accident and I don't think we could have asked for a better fit."
Lock-17 is now working on their second music video "Fighting People" and this time they will be producing and shooting it themselves.
Wescott said the band lives for playing shows.
"I love that the music makes people feel good," Wescott said. "I love it when I hear people say things like 'I can't help it…that song makes me smile!'"
"When I do something that makes the hair on my arms stand up, it pumps me with indescribable emotion! That is what I love about L17," Clifton said.
On Nov. 2, Lock-17 will be playing at the Roxy, located at 1164 N MacArthur in Oklahoma City, alongside Left to Die and One Gun Solution, opening up for legendary metal band Anvil. The doors will open at 8 p.m. and the show will start at 8:30 p.m.
Tickets are $12 in advance or $15 at the door.
"Let's just start by saying WOW! We get a chance to play with Anvil. We are super pumped about the show," Wigham said.
To contact Ginnie Escobido, email onlineeditor@occc.edu.