Library to display banned books Sept. 22 to 28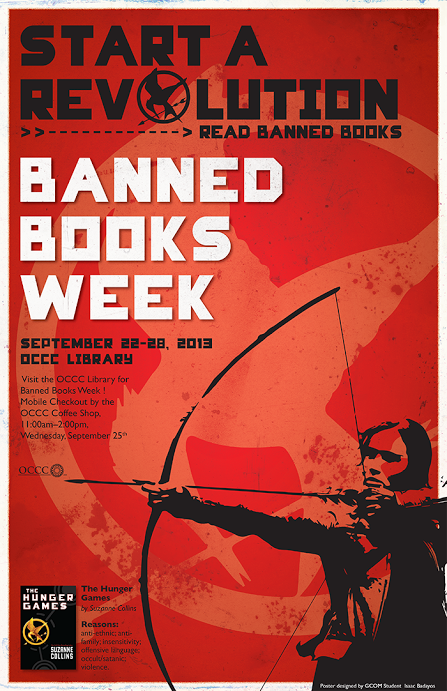 More than 400 books were banned or challenged in 2012, Electronic Reference Librarian Tricia Sweany said. Banned books week, a week that celebrates the freedom to read, is Sept. 22 to Sept. 28.
When a book is challenged, it means that someone at one time worked to get that book off of store shelves, Reference Librarian Rachel Butler said.
"The Hunger Games, the "Harry Potter" series, the "Twilight" series, the Bible, "The Perks of Being a Wallflower," "Fight Club," and the "Diary of Anne Frank" are some examples of books that have been challenged or banned, Sweany said.
"When someone hears that [a book] was banned or that it was challenged, they're more likely to pick it up," Sweany said. "So it defeats the purpose of someone saying 'We need to get rid of this book' because people are going to want to read it. They're going to want to know why."
Butler said the awareness week is important.
"We love it because freedom of information and freedom to read are some of our core principles," Butler said.
"For us, it is pretty much the most popular display we do all year because people are fascinated that somebody wanted to prevent other people from reading or looking at whatever that item is and why."
Butler said Graphic Communications professor Randy Anderson's Applied Graphic Art spring class also helped with the project.
Students created Banned Books Week posters that are being displayed around the campus — something that has never been done before, Butler said.
"He sent us about eight of what he thought were the best designs from his class last spring," Butler said. "We picked four or five of them that we liked the best."
Anderson was not available for an interview.
The library will feature a display that will allow students to look at various challenged or banned books.
"We pull a lot of books from our collection that have been challenged or banned," Butler said. "We will have brown paper bags over books with some of the comments that people made and [people can] lift off the bag and see what the item is.
"We invite people to take stuff off of the display and check it out."
Students are able to check out the books for up to two weeks, Butler said.
"[Students] just check them out with their student IDs," Butler said.
To check out a book, visit occc.edu/library or stop by the OCCC library. For more information, call Butler at 405-682-1611 ext. 7643.