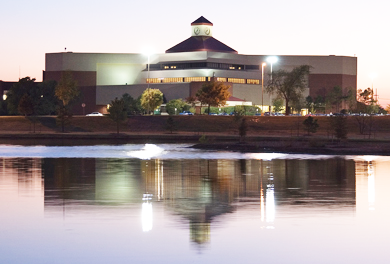 OCCC's library will be changing its hours of operation after spring break this year. A total 15 hours per week will be cut from the normal operating hours.
As of March 21, the library's open hours will change from 7:30 a.m. to 9:00 p.m., on Monday through Thursday, 7:30 a.m. to 5 p.m., on Friday and 9 a.m. to 3 p.m. on Saturday. The library will remain closed on Sundays.
This change comes in response to a combination of two primary elements according to Acting Vice President for Academic Affairs Anne Declouette.
Declouette said OCCC's library is already one of only a few community college libraries that stay open as late as 11 p.m. on weekday nights. She said other community colleges in the imediate area don't commonly stay open so late. But use of the library was a deciding factor, she said.
"We also did an analysis before we proposed reducing library hours. And we saw that library's patrons drop off after 9 p.m.," Declouette said. "The expenses, personnel and non-personnel expenses after 9 p.m. for our library in this current environment is really just too much."
OCCC was actually planning to revise the library hours in the upcoming summer, she said. However, they decided, in light of cuts to the budet, to implement the plan sooner.
She said one member of the library staff would soon be retiring and she didn't want to have to hire a replacement to fill in for only a few months before the library's hours and staffing plan changed.
"This is just really a perfect opportunity to do something that we actually were planning on doing," she said.
Declouette said the new hours will remain indefinitely.
"We anticipated that this is probably a permanent change unless something drastically happens with the budget," she said.
Some who use the library have expressed that the change may make things more difficult.
Shortening the library hours will negatively affect working students, said Political Science major Madison Robin.
"The new policy for cutting back the hours is extremely detrimental to the education of the students at OCCC because for a lot of students work," she said. "I utilize the library until 11p.m. every single night. I'm very concerned about my studying. I guess I have to prepare unless someone stands up and changes this."
"I utilize the computers here and the printers, so I guess I am going to find other facilities and places to print out things and submit my paperwork," she said, "So, I guess I have to go to the OU library."
Robin said tuition costs should be cut back if students are allowed less use of campus resources.
Pre-medicine major Leslie Franco agreed.
"I think it is very ridiculous because we spend so much on tuition. My question is 'If our tuition will be lowered if we're not going to have, like, the same facility opportunities as we did before?'" Franco said.
She said even when the library  is open until 11p.m. each weekday, that isn't always enough.
"When we go home, there's plenty of homework to do," Franco said.
She said she thinks OCCC's administration should consider the costs of denying students resources and experiences on campus.
Declouette said she certainly understands that many students, some of whom regularly stay at the campus late to study, might be upset about the new change.
"I really support our students who have so many different things going on — children, work, school and many of those types of things," she said.
"I hope they can do that studying at home. We are talking about from 9 to 11 p.m., we are not talking about a lot of time.
"We are hoping that they can find somewhere else, maybe a nice and peaceful place at home at that time."