Letter-writer says aquarium review off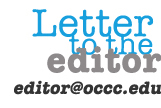 To the Editor:
In regards to the negative article written by Sarah Hussain about the Oklahoma Aquarium at Jenks: I have been to this aquarium in Jenks several times and have enjoyed it each and every time. I could see the new additions that were added when they received appropriate funds.
And yes, I have been to several aquarium on the West Coast which have been there for many years before Oklahoma was fortunate to start one here. It is very nice. My grandson and I drove over to visit it just last October, and enjoyed and appreciated it all over again.
Evidently, Sarah Hussain does not like children to not be able to share in the children's discovery fun. This is no doubt the first and maybe only time kids get to see things like this live and not just in story books. Having the excitement of the children added to the fun for me of seeing sharks and large fish and turtles, etc.
Also: construction of streets. Construction is change for the future and cannot be changed or there is no progress.
The $15 charge at the Jenks is not out of line. Look at theater prices. If you have not been [to the aquarium], I suggest getting there this summer.
—Delores J. Holmes
Senior Citizen Writer