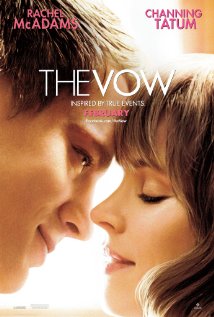 Talking with a friend the other day, I was introduced to an article on thoughtcatalog.com called "The 10 best fictional boyfriends."
Here is the list:
1. Tom, "500 Days of Summer"
2. Aladdin, "Aladdin"
3. Aidan Shaw, "Sex in the City"
4. Noah, "The Notebook"
5. Josh, "Clueless"
6. Mr. Darcy, "Pride and Prejudice"
7. George, "George of the Jungle"
8. Ron Weasley, "Harry Potter"
9. Jesse Pinkman, "Breaking Bad"
10. Beast, "Beauty and the Beast
Now, here's mine:
1. Leo Collins, "The Vow" – The man sticks with his woman even after she loses her memory. He never stops helping her try to remember. What's more romantic? The fact that Channing Tatum plays this character doesn't hurt either.
2. Jack, "While You Were Sleeping" – Just because he's just so darn cute and funny. You just know he and Lucy will end up together in the end.
3. Mike Delfino, "Desperate Housewives" – Mike is the husband all women want and the guy people like having as a neighbor; caring, hard-working and will do anything for those he loves.
4. Sam Wheat, "Ghost" – I tear up every time Sam's ghost (Patrick Swayze) is going up to heaven and he says "I love you, Molly. I've always loved you."
5. Seth, "City of Angels" – Seth gives up being an angel so he can have a relationship with the mortal he loves. I think that deserves a thumbs up.
6. Kermit the frog – Simply because he has to deal with Ms. Piggy. Kudos to him.
7. Matt Flamhaff, "13 Going on 30" – Matt ends up marrying his childhood best friend, Jenna, and together they go off and live in their dream house. So sweet.
8. Malcolm Doyle, "27 Dresses" – Maybe I'm biased since he's a journalist, but there's just something hot about stalking a woman (in a non-creepy way) until she falls in love with you.
9. Andrew Paxton, "The Proposal" – Even though he ends up falling in love with Margaret (Sandra Bullock) in the end, I give him props for agreeing to go through with a fake marriage.
10. Henry Roth, "50 First Dates" – Not a big fan of Adam Sandler but his character deals with his girlfriend whose memory erases every day and he must find ways to introduce himself all over again… one patient guy.
What do you guys think? What are your top ten favorites?
To see the original post visit http://thoughtcatalog.com/2012/the-10-best-fictional-boyfriends/
Disclaimer: The opinions and views expressed in this blog are the opinions of Erin Peden and do not reflect the opinions or views of any other Pioneer employees.
To contact Erin Peden, email staffwriter1@occc.edu.