Leave some cans by the mailbox to stamp out hunger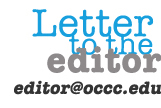 To the Editor:
On Saturday, May 14, letter carriers in more than 190 cities in central and western Oklahoma will "Stamp Out Hunger" by collecting canned food donations from households on their route.
To help "Stamp Out Hunger," fill the plastic donation bag you receive in your mailbox the week of May 9, or any plastic bag, with canned food donations and place it by your mailbox on Saturday, May 14, before your letter carrier arrives.
Your letter carrier will do the rest.
"The Letter Carriers' Food Drive is more important than ever," said Rodney Bivens, executive director of the Regional Food Bank of Oklahoma.  "During the summer, utility bills skyrocket and children, who usually receive meals at school, may not have enough to eat.
"We are asking the community to help us by donating canned items through the Letter Carriers' Food Drive.  Together, we can solve hunger."
Monetary donations can also be made online at feedinghope.org or by calling 405.600.3136.  Every dollar donated will provide five meals for Oklahomans with inconsistent access to food.
As the demand for food assistance continues to rise, the Regional Food Bank depends upon the generosity of the community to support its mission of "Fighting Hunger…Feeding Hope."
For more information about the Letter Carriers' Food Drive, ask your letter carrier, contact your local post office, or call Angie Doss at 405-604-7109 or email adoss@regionalfoodbank.org.