Leadership scholarship created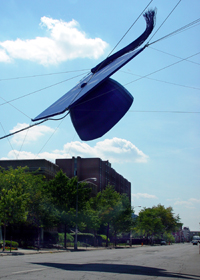 A new scholarship is available through OCCC for students. The Dr. Marion Paden Distinguished Leadership Award has been established for students who have given back to the community.
According to the description on the OCCC employee website: "A percentage of the $15,000 endowed scholarship from Regent [John] Massey will be awarded annually to a deserving student on a case by case basis."
The scholarship was created in the name of Paden, vice president of enrollment and student services.
"We want to recognize people who balance educational experience with some civic experience and service learning," Paden said. "We want to reward people who balance scholastic endeavors with a service heart."
Paden described a service heart as having the mindset where "you do it because it's in your heart to do it. It is very centered on the other person."
Co-workers said Paden speaks from experience. Student Life Director Erin Logan said Paden is the "textbook definition of a servant leader.
"This award is given [in her name] to recognize her for her leadership because of her hard work, her service to OCCC and to the community," she said.
Kim Velleca, Paden's administrative assistant, agrees. "There is a certain level of admiration for what she does," Velleca said.
"She's a very busy person with her commitment to the college and her commitment outside of the college.
"She does a lot of things. Her involvement in volunteer work is something to be admired. For instance she's possibly getting ready to do polio vaccinations in India."
For more information on the scholarship, contact the office of the Vice President of Enrollment and Student Services at 405-682-7879.
To contact Mike Wormley, email onlinewriter@occc.edu.