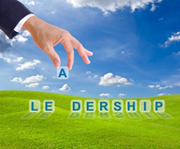 tungphoto/
FreeDigitalPhotos.net
The Leadership Council, OCCC's representative student body organization, heard a recruiting speech for President Paul Sechrist's fall leadership class at its first meeting of the semester in January.
The council, under the student leadership of Chairman Chris Hanna, met to introduce members, discuss an executive board opening, and inform people about applying for the President's Leadership Class.
In a quest to develop more polished student leaders, OCCC is offering the President's Leadership Class once again, after a successful run last fall, said Erin Logan, director of student relations.
The leadership-focused one-credit-hour class offers students a chance to learn about different styles of leadership, enhance their critical thinking skills and get an iPad without paying $500.
"Do the class," said Hanna, one of last year's participants. "You meet leaders from the school and community, and you learn how other people think and how to communicate based off that information."
To be clear, it takes more than a trip to registration to take the class. Students interested in the class must have completed 15 credit hours at OCCC in 1000 level courses or higher and English 1113 by May 11. Also, students must maintain a 3.0 grade point average from the application date through the first day of the fall semester, according to the President's Leadership Class flier.
Class requirements don't end once a student has been accepted.
If a student is selected, he or she must be enrolled in a minimum of eight credit hours during the fall 2012 semester and plan on graduating from OCCC. However, the student doesn't have to graduate in December, said Marion Paden, Enrollment and Student Services vice president.
Although the class may have some rigorous requirements, there are perks.
Outside of learning about leadership and networking with many local leaders, the class will allow participants full in-state tuition and fees for up to eight credit hours at OCCC next fall, a $200 book stipend for the fall semester and an iPad that will contain the class textbook.
After successfully completing the course, students will receive full in-state tuition and fees for up to six credit hours in the spring semester and another $200 book stipend in the spring, according to the flier.
TLC is comprised of a representative from each OCCC student organization, two at-large student representatives, an executive board of students and two staff positions, which are filled by Paden and Logan.
TLC was formed to cultivate the open line of communication between administration and students, Logan said. The council brings student leaders together to discuss upcoming events and current issues that students are facing.
For more information on TLC, students can go to the Student Life offices.
To apply for the President's Leadership Class, students must complete the process and email the paperwork to Logan at elogan@occc.edu by 5 p.m. March 9.
To contact Wes Carter, email onlineeditor@occc.edu.