Leadership class to continue in the fall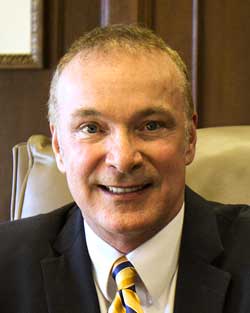 President Paul Sechrist
OCCC's President's Leadership Class will continue this fall for the fifth time, even with the upcoming presidential change, said the class's Instructor of Record and Student Life Director Erin Logan.
The class, taught by OCCC President Paul Sechrist and Vice President for Enrollment and Student Services Marion Paden, gives students a unique opportunity to learn about leadership from other community leaders, Logan said.
"The purpose of the President's Leadership Class is to allow a group of students the opportunity to learn leadership from not just the college leadership, but from a leadership perspective as a whole," she said.
"They learn transferable leadership skills that allow them to be a leader in any capacity of their life … ," she said. "They're learning skills they can [use].
"The point of the class is to make better leaders, by letting students find their own leadership style."
Logan said one of the ways the class helps students develop their own leadership is by introducing them to and having them interact with local community leaders.
"We bring in guest speakers from the community that are influential leaders in many different disciplines," she said.
"We've had everybody from (former Lt. Gov.) Jari Askins, who ran for governor several years ago, to Bruce Lawrence, the CEO of Integris Hospital, to Pam Newby, the founder and CEO of Special Care, which is one of our service agencies that helps children with disabilities.
"We try to find leaders from all aspects of the community and introduce them to the students.
"Have them learn and ask questions one-on-one with different types of leaders, which you can't teach [with] a textbook."
OCCC student Seth Boss took the class in the fall 2014 semester. He said the opportunity was valuable.
"I think that, in the grand scheme of things, the networking, the connections you make with other people in the school, are the biggest things," he said.
"The people who taught us, that's another huge thing. They would teach us different barriers of leadership that we would encounter and they just taught you where to take your leadership next."
Logan said unlike most classes at OCCC, this class requires an application, with certain criteria being required for acceptance.
"There's an online application the students have to fill out; I need two letters of recommendation emailed directly to me from faculty or staff members at OCCC; they need to have a 3.0 GPA, completion of English Composition I or equivalent," she said.
"And then at least 15 hours at OCCC."
Logan said students accepted into the class will receive financial benefits from OCCC as a reward for their participation.
"We pay for eight hours of tuition and their fees for fall semester, plus $425 for books," she said.
"Then, in the spring semester, as long as they've successfully completed all eight of those hours, they get six hours of tuition and fees, and $425 for books as well."
Sechrist said he hopes the new president will teach the class, just as he did.
"I'm there almost every week, to actually be the instructor that the students see as the instructor of the president's leadership class," he said.
"It gives me an opportunity to, at least once a year, interact very closely with 25 students, and make sure that the president knows what's going on in the classroom, and … understands the students' perspective of OCCC.
"The President's Leadership Class could be just that in name, if they chose to continue it, but it would be my hope that the new president would be involved."
With his retirement date of July 1 drawing near, Sechrist said he hopes the class he initiated will continue during the tenure of the next president beyond the fall semester.
"While there aren't any guarantees, I think there's a good chance that the class will continue," he said.
"I won't be here to teach it like I normally am, but at least Dr. Paden and Erin Logan are committed to making sure that there's a class."
Boss said anyone interested in the class should apply.
"If the scholarship is not enough to convince them, they are going to be creating a connection with two of the most outstanding leaders in our college," he said.
"There's a lot of things that come from doing and stepping outside of the comfort zone, and not thinking, 'Oh, it's too much work.'
"It wasn't an easy class, but what I gained from it was a lot of experience, and a lot of connections."
Applications for the class must be emailed to elogan@occc.edu by 5 p.m. Friday, March 13.
For further information or questions, contact Logan at elogan@occc.edu, or call the Student Life office at 405-682-7523.
To contact Clayton Mitchell, email sportswriter@occc.edu