Kishi Bashi makes heartache sound beautiful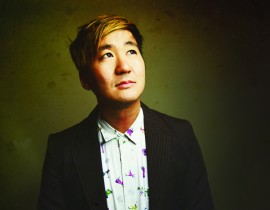 Seattle native singer, songwriter, and multi-instrumentalist Kaoru Ishibashi creates sounds of uplifting heartbreak — a confusing and paradoxical feeling, to accept or deny anything you can do for someone to love or belong to you.
Ishibashi, who goes by Kishi Bashi, has gone through the motions of a thirteen year relationship, with an ending that left him writing and creating his fourth full length album.
Sonderlust is a compilation of wishes, hurt, and second chances. I can imagine nothing more cathartic than creating something that encapsulates the good, the bad, and the hope of love after knowing and understanding the complexities of what makes a relationship rise and fall.
Ishibashi is an artist that can be hard to categorize. He takes his influences and sounds in a wide variety of ways. It's a disservice to his talent to try and call him one genre or style, but for this review's sake let's call his music indie, progressive, electro-acoustic pop.
There's a beauty in Ishibashi's wide soundscape. The amount of space a person can almost feel when a song is played is what this album excels at. It's not as simple as just putting more layers on a track, there is an art to making so many sounds and harmonies work in perfect unison and still be pleasing to listen to.
It's all about the approach to the craft. Ishibashi doesn't restrict himself to any label or adjective that people come up with. He has a wide variety of instruments to his artistic capacity, and it really shines in his album.
Strings and vocal manipulation set the stage for this short, ten-song tracklist of the creative, upbeat, and beautiful.
A definite highlight is the song "Can't Let Go, Juno". It starts with a simple melody that carries the song once the percussion and strings join. In a gorgeous transition, synthesizers and violins take the lead to introduce Ishibashi for a song of breakup and recovery.
It's not a tune talking about pain and suffering. It takes the situation of "what if?" and leaves it to you. Would you burn all those letters? Could you fake it after it happened? Could you let go?
Wrap yourself in a world of optimistic sadness, Sonderlust is available on digital markets and streaming platforms.