The Shining by Stephen King
Summary:
'"...Unexpected chills..."'
If you want to get attention, you just need to carry around any books written by Stephen King.
I was asked the same questions again and again by people on campus when I was reading "The Shining" and "Doctor Sleep." Those were 'What do you think about the books?' and 'How many books of his have you read?'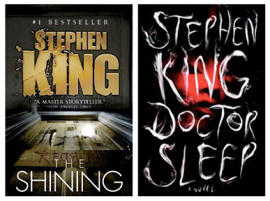 I believe every scary novel fan knows about Stephen King and his numerous fabulous novels.
I learned about him a few months ago after my English Communication instructor introduced me to "The Shining."
Admittedly, after the few first pages, I could not put the book down. The words King uses and the way he structures sentences in "The Shining" is really simple, understandable, but also very attractive and appealing. He is an expert in leading readers to swim in his imagination's world.
The book is about an extraordinary boy named Danny who has a special power called Shining.
The story begins when Danny's father is offered a caretaking position in a big isolated hotel which contains a bunch of skeletons in its closets. Dan and his parents move into the hotel and are the only ones there through the winter months.
With his shining, Danny starts seeing unusual things such as "ghostie people" —those who died in the hotel long ago — and moving hedges in the garden.
King really makes me feel unexpected chills down my back — especially when I read his book at night.
I know I'm not the only person who felt obsessed with the author after finishing "The Shining."
Afterwards, I was curious what became of Danny. I kept wondering how he would deal with his special power as an adult.
I kept asking myself whether he would become a heavy drinker or a terrible father like his father who almost broke Dan's arm when he was only four.
Fortunately, King wrote a book to satisfy my curiosity — "Dr. Sleep." I decided to check out the sequel.
Although not exactly as I had wished and expected the storyline would be, it was still good enough to satisfy me.