Kids learn teddy bear care from students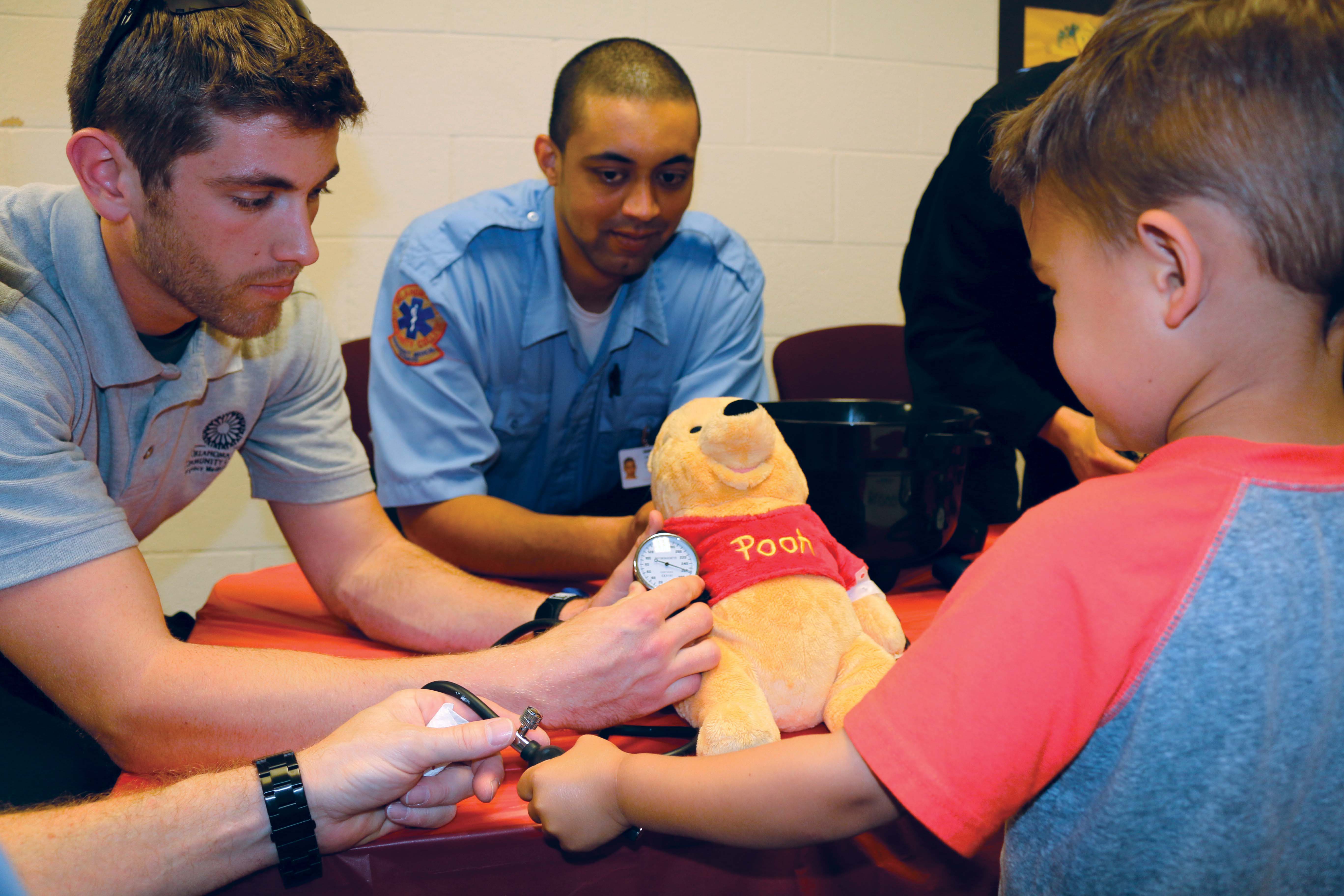 When children arrived at the Family and Community Education Center, they were given a teddy bear to practice medical procedures on during the Teddy Bear Clinic.
The OCCC Student Emergency Medical Sciences Association partnered with the Child Development Center and hosted 50 children to learn about pre-hospital care.
"SEMSA students donated all of the stuffed teddy bears for the children," said Shelly Tevis, clinical affiliation compliance administrator.
Through hands-on experience, children learned about their pulse, taking blood pressure, listened to their heart beats using a stethoscope. They received a certificate at the end of the event.
The youngest child to participate was 2 years old and the oldest was 6 years old.
"The children can see us in our uniforms, they can see all the equipment that we use, and it's good for OCCC students to practice their pediatric assessment and learn how to talk to pediatric patients," said Emergency Medical Sciences Professor Crystal Reynolds.
Reynolds said she was inspired to spearhead the event after reading that a hospital did something similar for a local community to help lessen the fear children have towards paramedics, doctors, and hospitals.
The idea was presented during a SEMSA club meeting a few semesters back and as the time passed, members added details to the event and kicked off the event this month, Reynolds said.
"A lot of our students have never dealt with children so this is a really good exposure for them to deal with and how to communicate with a pediatric patient and put them at ease when they're scared and vulnerable," Tevis said.
Tevis said she contacted Lee Ann Townsend, child development center lab supervisor to begin the partnership. Reynolds said she hopes to grow the event and make it a community event.
The clinic was coordinated during the Week of the Young Child, Tevis said.
According to naeyc.org, the purpose of the Week of the Young Child is to recognize early childhood programs.
The Child Development Center did various activities with the children in their program throughout the week and ended with the Teddy Bear Clinic where parents were invited to attend with their child, Tevis said.
The OCCC FACE Center is located 6500 S. Land Ave in Oklahoma City.
A total of 50 children attended the event and 22 paramedic and EMT students were present.
SEMSA will be partnering with the YWCA and the Child Development Center to support battered women and children by donating items needed at the YWCA.
"It's just another example of community outreach and all coming together for a common good," Tevis said.
To learn more about the items needed contact Christian Timmons, child development teacher at 405-682-7561.