Kendall's cinammon rolls worth the drive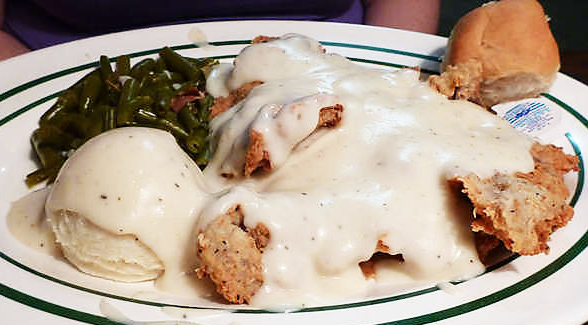 On Labor Day weekend, my family was dying to get out of town, so we drove a grand total of 25 miles to Noble, OK.
Of course, after all of that driving, we were in dire need of some food to cure our hunger.
After driving around in the small town for a few minutes, we decided the best place to take a chance on was Kendall's, located at 100 S Main Street.
The building doesn't look like anything special from the outside. You could easily pass by and never know it was there —except for the large crowd overflowing out the door and sitting outside the restaurant in complementary plastic chairs.
Kendall's is one of those rare mom-and-pop restaurants that serves southern classics. Their menu has entrees such as chicken fried steak, chicken strips, catfish, hamburger steak, roast beef and breaded pork chops.
Most entrees are available as a Light(er) Dinner, which includes a half-sized entree, green beans, mashed potatoes, biscuit and cinnamon roll for $8.99.
For those with a bigger appetite, Country Dinners are available. Those range from $13.99 to $17.99 and come with a dinner salad, green beans, biscuit and choice of potato.
Lunch specials also are available from 11 a.m. until 4 p.m. Wednesday through Friday.
Their menu also has seven different types of hamburgers, 10 different types of sandwiches and several salads.
I got the Southern Fried Chicken Sandwich, which is basically a recreation of a Chick-fil-A sandwich.
The sandwich was not great, but also not bad.
The menu item I would go back to Kendall's for would definitely be the cinnamon rolls.
It was, without a doubt, the best cinnamon roll I've ever had (other than my Nana's.)
When our waitress brought them out, they were still warm. After taking one bite, I knew I had just tasted a piece of heaven. It melted in my mouth and made me feel warm inside, just like the perfect cinnamon roll should.
A cinnamon roll comes with every entrée, so there's no need to spend extra money.
Bring your cash or checkbook, because Kendall's does not accept debit or credit cards.
Stop by from 11 a.m. until 8 p.m. Wednesday through Saturday to get some old fashioned cooking.
Rating: B+