KD's Southern Cuisine unique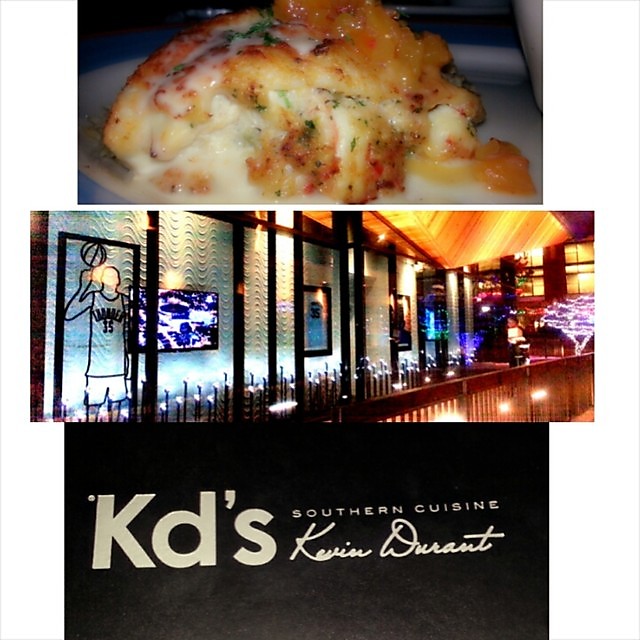 KD's Southern Cuisine, located in Bricktown, seems to be the new popular place to eat. With everyone wanting to go there, the wait time to be seated is about two hours. However, KD's website at www.kdsbricktown.com allows customers to make online reservations, which makes going to the restaurant more convenient.
I made online reservations a month in advance. Making the reservation was very simple and easy, because I was able to set my party size and the time we would like to be seated.
When my family and I arrived at KD's, we were immediately seated after we told them our reservation information.
The atmosphere was comfortable, yet classy. The lights are dimmed and all of the upholstery is black leather. There are pictures of Thunder star Kevin Durant hanging on the walls and a huge see-through, blue-lighted wine room that has two levels.
The service was exceptional because the staff always went the extra mile to make sure the dining experience was nothing short of spectacular.
The menu has many appetizers. My family and I shared the buttermilk biscuit basket which was $4 for four biscuits. The biscuits were homemade, fluffy, baked squares of heaven.
The main courses on the menu include chicken, steak, fish, sandwiches and salads.
I had the honey chicken which was fried chicken with a honey coating. It was without a doubt the best fried chicken I have ever eaten.
The $15 entree came with two sides. I got mashed potatoes, and macaroni and cheese. Both of the sides were amazing.
We all shared double chocolate cake for dessert. It was incredibly moist, and the icing was creamy and delicious. The slice was only $7.
My family of four ate for $110, which included the tip. Although that is quite a bit more than eating at a normal restaurant, I will assure you it is worth the extra money.
For only about $20 a person, you can have awesome food in a unique atmosphere.
I recommend KD's to anyone who is looking for a great place to eat.
Rating: A+
To contact Lauren Daniel, email editor@occc.edu.